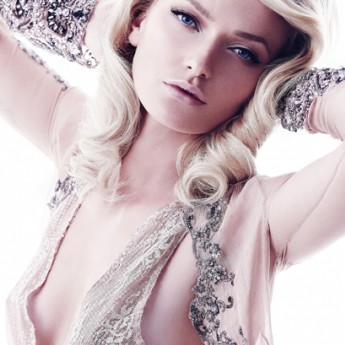 JADE DOCKARY AUSTRALIA is a high end fashion label launched in Paris in September 2012 at the Vendome Luxury Tradeshow. The designer behind the label has been working in the Australian fashion industry for the past decade and has spent the past six months developing her unique brand of eveningwear in India. The entire Spring Summer 2013 collection is created with hand beaded mesh and silk fabrics in intricate feminine motifs and patterns, which were inspired by the "Ziegfeld Follies" of the 1920's. Each garment's adornment is constructed from a sketch; pencil drawings are translated into thousands of beads and sequins that take hundreds of hours to apply. Each garment is tended to over months making the final product a spectacular feat of craftsmanship with incredible individuality. "Slow fashion" is the concept of this designer; each piece has a story and is designed to last.
Australian fashion designer Jade Dockary is a graduate of East Sydney TAFE. After completing her studies Jade travelled to the UK where she launched her first label named Effigy 49 and opened a boutique shop in Wandsworth Town, London. In addition selling hand made pieces to other London boutiques and at the local markets.
Early in 2012 Jade travelled to India to pursue this new venture, her signature label based on slow fashion, which is designed to last the ages. Each piece is designed to be loved and cherished by it's owner, made for those very special occasions.
Officially launching at the Vendome Luxury Tradeshow in Paris in September 2012 with an intimate after affair the label's first range inspired by the art nouveau movement of the 1920's will fit comfortably in the venues luxury surrounds of the Hotel D'evreaux.
Learn more about Jade Dockary at their website.
Learn about the Vendome Luxury fashion event that Jade selected to debut her fashion brand.

Read more fashion news articles from 2012:
Read more fashion industry news archive from 2011: 2011 Archive Fashion Articles
Read more fashion articles from 2010: 2010 Archive Fashion Articles
Read more fashion articles from 2009: 2009 Archive Fashion Articles

---
You may have interest in reading the following:

Rita Ora Wearing Jean Paul Gaultier for Video
Katy Perry Wearing Vintage Jean Paul Gaultier
You may also find the following links to be of assistance:

Fashion Jobs
You may also have interest in the fashion shopping articles ...
If you are tired of simply reading about fashion, you may want to take a break and do a little shopping. If that is the case, you are welcome to visit our shopping section from the links below:
Shopping For Children's Clothing

Here are a few more apparel news resources that you may enjoy.
Here on Apparel Search you can learn more about
fashion
in many various ways. Certainly, one way is to read fashion news articles.

If you have suggestions on ways that we can improve this page, please do not hesitate to let us know.
Have you ever dreamed of becoming a fashion designer?