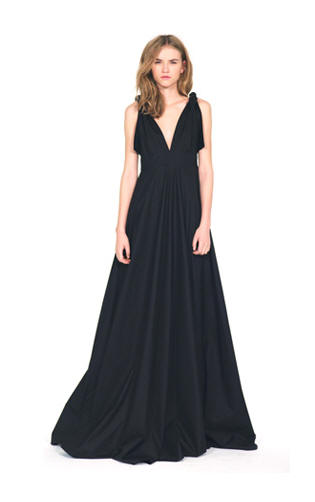 Designer Derek Lam and eBay, the world's largest online marketplace and a leading U.S. destination for fashion, introduce the first-ever crowdsourced collection—DEREK LAM + eBay—available for purchase starting today, May 10 at XX EST/xX PST.
"Crowdsourcing with eBay created an incredibly unique opportunity to have a direct dialogue with shoppers around the world—and the community interest in helping influence the DEREK LAM + eBay collection has been phenomenal," said Derek Lam. "The winning dresses represent essential styles that are effortless, yet playful, and are iconic silhouettes for the spring/summer season."
In February, Lam debuted the exclusive 16-piece dress collection, designed for spring/summer 2011, at a presentation at Alice Tully Hall at Lincoln Center during New York Fashion Week and simultaneously at dereklam.ebay.com. Shoppers everywhere were invited to view the collection and vote for their favorites to determine the final crowdsourced collection. After more than 120,000 votes were cast by the global eBay community - both online and on-the-go through mobile devices - five designs were produced based on the collective consumer voice.
DEREK LAM + eBay is now available to purchase at accessible, fixed, Buy It Now price points ranging from $175.00 - $295.00, in sizes 0 – 16, exclusively on eBay. The collection includes the Boho Dress in multi color floral print georgette; the Black Tie Dress in black cotton poplin; the Sun Dress in indigo denim; the Shift Dress in black cotton poplin with peplum back; and the Chemise Dress in multi color floral print georgette.
Designed by Lam to represent an assortment of dresses he envisions for every woman's wardrobe, the final DEREK LAM + eBay collection delivers shoppers iconic styles for the season at incredible value.
"We know there is a broad base of fans who love the Derek Lam aesthetic and this collaboration has enabled us to make use of technology in a really smart way to reach them directly," said Jan-hendrik Schlottmann, chief executive officer of Derek Lam International. "We've been able to leverage eBay's global platform as an inventive incubator for design and discover what our customers' desire from an accessible, contemporary line."
"DEREK LAM + eBay represents the new frontier of social commerce, and we are thrilled to collaborate and connect our shoppers with a designer as talented as Lam," said Miriam Lahage, vice president and general manager of eBay Fashion. "From inviting our global community to participate through crowdsourcing to delivering exclusive merchandise—eBay is leveraging technology to invent new ways to create, shop and sell fashion."
The collaboration between Derek Lam and eBay advances eBay's Designer Exclusives platform as the company continues to provide consumers with innovative ways to shop fashion and unlock the incredible value and selection available on the Marketplace. eBay Fashion, a dedicated destination for clothing, shoes and accessories, delivers an enhanced, inspired experience to shop the largest selection of fashion online – and the eBay Fashion for iPhone app offers a personalized, on-the-go experience that lets shoppers browse, buy and virtually try on items right from the palm of their hand.
About Derek Lam
Derek Lam, a native of San Francisco, began his fashion career in 1990 after graduating from Parsons School of Design. After twelve years spent at the highest levels of American fashion as a designer at Michael Kors, Lam, together with his partner Jan-hendrik Schlottmann, launched his eponymous label in 2003. 2006 saw rapid growth at Derek Lam as handbags were added to the collection and Derek was named creative director of Tods. 2007 continued the trend of growth with the addition of shoes and eyewear to the Derek Lam label. After a successful collaboration with SANAA on his first store at 10 Crosby Street in New York, Derek once again enlisted the talents of the esteemed architectural team made up of, Kazuyo Sejima and Ryue Nishizawa to open his second store at 764 Madison Avenue.
Lam has received abundant recognition within the fashion industry, winning the CFDA Perry Ellis-swarovski Award for Emerging Talent in Womenswear in 2005, the Vogue/cFDA Fashion Fund Prize in 2005 and the CFDA Accessory Designer of the Year Award in 2007. He launched his label in 2003 – sold at Lam's two retail stores, online at DerekLam.com and at premium retailers including Saks Fifth Avenue, Bergdorf Goodman and Barney's – and was named creative director of Tods in 2006. Lam's clientele includes Kate Hudson, Jessica Alba, Leighton Meester, Rachel Bilson, Kate Bosworth and Anne Hathaway, among others.
About eBay
Founded in 1995 in San Jose, Calif., eBay Inc. (NASDAQ:EBAY) connects hundreds of millions of buyers and sellers globally on a daily basis through eBay, the world's largest online marketplace, and PayPal, which enables individuals and businesses to securely, easily and quickly send and receive online payments. We also reach millions through specialized marketplaces such as StubHub, the world's largest ticket marketplace, and eBay Classifieds sites, which together have a presence in more than 1,000 cities around the world. For more information about the company and our global portfolio of online brands, visit eBay Inc.
.
Learn more about fashion auctions on eBay.
Pictured Above: BLACK COTTON POPLIN BLACK TIE EVENING DRESS
Item # 120720712802
· $275
· 98% COTTON, 2% SPANDEX
· INVISIBLE SIDE ZIPPER
· HOOK AND EYE CLOSURE AT TOP OF ZIPPER
· ADJUSTABLE TIES AT SHOULDERS
· DEEP V NECKLINES AT FRONT AND BACK
· SIDE SEAM POCKETS
· SIZES AVAILABLE 0,2, 4, 6, 8, 10, 12, 14, 16
· DRY CLEAN ONLY
ITEM SPECIFICS
· NEW WITH TAGS
· FULL LENGTH
· 98% COTTON, 2% SPANDEX
· DEREK LAM + eBay
· SLEEVELESS

Learn more about Derek Lam on eBay.

- Black Tie Dress : Black cotton poplin black tie evening dress | Price: $275.00
- Boho Dress
: Multi color floral print georgette boho halter dress | Price: $295.00
- Chemise Dress : Multi color floral print georgette chemise dress | Price: $225.00
- Shift Dress : Black cotton poplin shift dress with peplum back | Price: $175.00
- Sun Dress
: Indigo denim sun dress | Price: $195.00
Learn more about Derek Lam here on Apparel Search.
By the way, you can find fashion boutiques on Apparel Search, if you were interested. You can find them in the fashion boutiques section.