Introducing a new and free tool that will help ensure fashionistas never miss an online deal again.
Launched in June 2012 and available both online and across all smartphone devices, Clipix works like a personal shopping assistant that can be programmed to monitor the items and accessories you love across all of your favorite fashion websites. By doing so, Clipix works 24/7 to send you Price Drop Alerts the moment an online item is discounted to the price you want to pay!
But that's not all Clipix can do.
Clipix is also a superior organizational tool that, with the click of a button, allows you to save and catalogue your own virtual wardrobe in one central location – neatly displaying images and direct links to individual items you find anywhere online. You can establish an unlimited number of folders, known as Clipboards, to itemize your favorite things, such as "Designer Handbags", "High Heels", "Hot Summer Dresses" or "Favorite Retail Stores". Once web links, images or videos are saved into Clipboards, users never have to go searching the web for them again! You can imagine how much time and frustration that will save.
Key Features of Clipix:
· Users can set up Price Drop Alerts to ensure they get the best deals from any fashion or sale website
· Clipboards can remain private or be shared with others, making it perfect for collaborative gift shopping or event planning (weddings, proms, etc.)
· Clipix is a global tool available in 12 different languages
· Clipboards can store web links, images and videos in addition to files such as files such as Word Documents or PDF's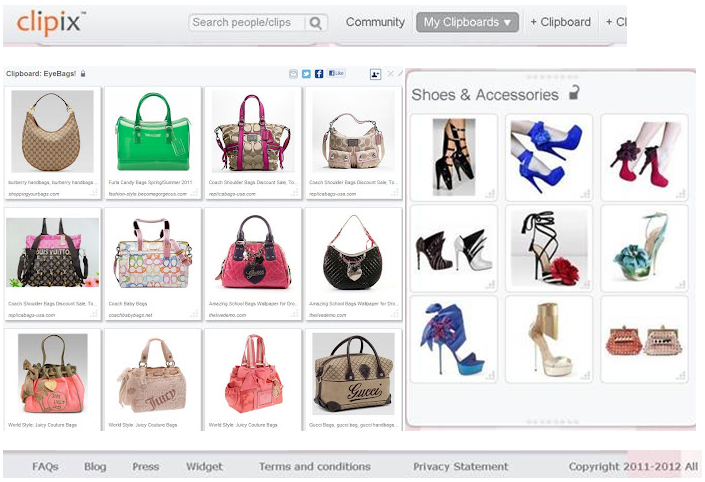 ABOUT CLIPIX
Clipix is a free online tool that easily organizes the digital content in people's lives. Clipix was created out of a need for a tool that would allow people to save and share links, documents, photos and video with one click, and provide a visual and organized environment for all of the things they want to keep track of online. Users can categorize items into different Clipboards which can remain private or public. Clipix is available online and across iOS and Android devices. Clipix was founded in 2012 by Oded Berkowitz, a veteran Wall Street professional and web entrepreneur. The company is headquartered in Fort Lee, New Jersey. More information can be found at www.clipix.com
If you are interested in discussing this online tool, you are welcome to do so at the fashion deals section on Google+.
Are price comparison search engines a thing of the past?