Welcome to the worlds greatest guide to women's designer fashion.
What is fashion? More importantly what is currently "in fashion". Trends change rapidly, so by the time you read this page, what we have written may already be out of style. Therefore, if you want to know the latest trends, you are sort of on your own. Here are a few tips.
Actually leave your house. See what other people are wearing.
Read fashion magazines & fashion blogs (don't believe all that they say, but do your reading).
Check for trends on social media. You may be happily surprised what you can learn by what other people are wearing and sharing.
Go shopping at the mall or your favorite fashion retailer. Don't be afraid to shop in an actual store rather than online. You can actually ask the employees questions. Yes, you may have to actually communicate without texting, but it is a good idea.
Similar to beauty, fashion is in the eye of the beholder. Trust your own judgment when it comes time to dress for the day. A fashion trend is what you make of it.
Fashion is a popular style, especially in clothing, footwear, lifestyle, accessories. Fashion designers work in a number of ways in designing clothing and accessories. Because of the time required to bring a garment onto the market, designers must at times anticipate changes to consumer tastes. Fashion trends are influenced by several factors including cinema, celebrities, climate, creative explorations, political, economical, social and technological. Fashion design is the art of applying design, aesthetics and natural beauty to clothing and its accessories.
Fashion designers attempt to design clothes which are functional as well as aesthetically pleasing. They consider who is likely to wear a garment and the situations in which it will be worn, they have a wide range and combinations of materials to work with and a wide range of colors, patterns and styles to choose from.
The garments produced by clothing manufacturers fall into three main categories, although these may be split up into additional, more specific categories.
Haute Courture - these garment are made-to-measure so that they fit for a specific person.
Ready-to-wear (also referenced as pret-a-porter) - this is a cross between haute couture and mass market. They are not made for individual customers, but great care is taken in the choice and cut of the fabric.
Mass market (off the rack) - The mass market caters for a wide range of customers, producing ready-to-wear garments using trends set by the famous names in fashion.
Below are a few of the many designer fashion items in the market for women.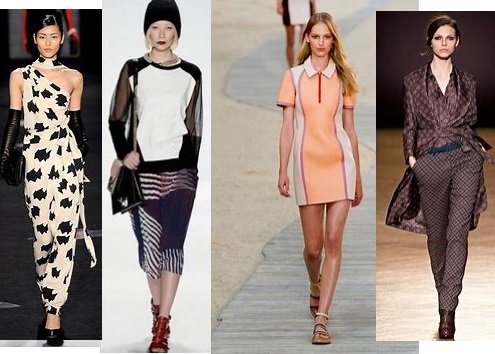 Fashion design is generally considered to have started in the 19th century with Charles Frederick Worth who was the first designer to have his label sewn into the garments that he created. Before the former draper set up his maison couture (fashion house) in Paris, clothing design and creation was handled by largely anonymous seamstresses, and high fashion descended from that worn at royal courts. The term couturier was in fact first created in order to describe Charles Frederick Worth. While all articles of clothing from any time period are studied by academics as costume design, only clothing created after 1858 is considered as fashion design.
The majority of the American fashion houses are based in New York City, with a high concentration centered in the Garment District neighborhood. On the west coast of the USA, there are also a significant number of fashion houses in Los Angeles. High fashion clothing is often manufactured in the United States in New York, California, and other locations depending on where the designer is based. Garments are obviously imported as well.
American fashion design is dominated by a clean-cut, urban, casual style; reflecting the athletic, health-conscious lifestyles of urban city-dwellers. However, the trends do change and may be completely different by the time you read this page (unless we update the page each season).
Apparel Search is a leading guide to fashion, style, clothing, glam and all things relevant to apparel. We hope that you find this women's designer fashion page to be helpful.
What ever you are wearing today is most definitely in style. If it was not in style this morning, it is certainly trendy now that you are wearing it. If you want to be even more stylish, you should wear your favorite outfit today.
Learn more about designer fashion.

Return to the Women's Clothes Directory D main page.
Thank you for using the Apparel Search website.