Welcome to the worlds greatest guide to Women's Distressed Denim.

Denim is a sturdy cotton twill fabric, typically blue (but not always), used for jeans, overalls, shirts, skirts, jackets, and other clothing. Learn more about women's denim clothing.
Women's denim clothing can be distressed naturally, with ripping, finishing processes, etc. Ripped denim and acid wash jeans come in and out of fashion similar to many other fashion trends.
The most common denim is indigo denim, in which the warp thread is dyed, while the weft thread is left white. As a result of the warp-faced twill weaving, one side of the textile is dominated by the blue warp threads and the other side is dominated by the white weft threads. This causes blue jeans to be white on the inside. The indigo dyeing process, in which the core of the warp threads remains white, creates denim's signature fading characteristics. The "fading" is one aspect of gaining a lovely and unique distressed look.
Over time dry denim will fade, considered fashionable in some circumstances. During the process of wear, fading will usually occur on those parts of the article that receive the most stress. On a pair of jeans, this includes the upper thighs, the ankles, and the areas behind the knees.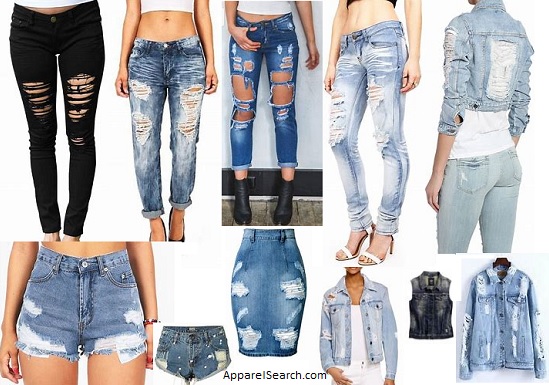 After being made into an article of clothing, most denim articles are washed to make them softer and to reduce or eliminate shrinkage. In addition to being sanforized (more about sanforization toward bottom of this page), "washed denim" is sometimes artificially distressed to produce a "worn" look. Much of the appeal of artificially distressed denim is that it resembles dry denim which has faded. In jeans made from dry denim, such fading is affected by the body of the person who wears them and by the activities of their daily life. This process creates what many enthusiasts feel to be a look more "natural" than artificially distressed denim.
If you don't want your denim clothing washed during the production process after the dyeing, you would want to look into purchasing "Dry" or "Raw Denim". To facilitate the natural distressing process, some wearers of dry denim will abstain from washing their jeans for more than six months. Most dry denim is made with 100% cotton.
With raw denim, patterns of fading in jeans caused by prolonged periods of wearing them without washing are a way of "personalizing" the garment.
Women's ripped jeans is often trendy. Sure, sometimes it gets overdone, but this type of pant is often in style.
Women's vintage jeans can look as if they are brand new, or they can be distressed.
Vintage Jeans - can be naturally distressed due to age and wear. In our opinion, the authentic distressed denim deserves more respect. It was earned. Learn about vintage distress finishes.
Textile finishes are an important aspect of textile manufacturing. Some finishes and techniques are certainly important to the denim market.
Learn about textile finishes such as acid washing, enzyme washing, stone washing, bleaching, sandblasting, etc.
Learn about stone washing fabric in our manufacturing section. That section is really for jean factories, not for DIY projects. However, if you are looking to stone wash your jeans, maybe you can pick up a few tips about stone washing, stone blasting, perlite, textile enzymes, and pumice.
Women's designer jeans are often carefully distressed. Designers experiment a great deal to find that perfect balance of wear to the denim. Designer jeans are expensive and it is a shame to rip and sandblast them. However, the consumer often wants to pay a high price for jeans that look old and worn. Sounds crazy, right?
Again, distressing denim is not only regarding pants. Shirts, skirts, dresses, jackets, and other types of denim clothes look good after looking aged.
The distressed look you are going for is working wonderfully for your. You truly look distressed today.
Apparel Search is a leading guide to fashion, style, clothing, glam and all things relevant to apparel. We hope that you find this women's distressed denim page to be helpful.
If you want to be even more stylish, you should wear your favorite distressed denim apparel today.
About Sanforization which can add to the distressing from the original raw material. Sanforization is a treatment process, mainly applied to cotton fabrics and textiles made from natural or chemical fibres, patented by Sanford Lockwood Cluett (1874–1968) in 1930. It is a method of stretching, shrinking and fixing the woven cloth in both length and width before cutting and producing, to reduce the shrinkage which would otherwise occur after washing. The cloth is continually fed into the sanforizing machine and therein moistened with either water or steam. A rotating cylinder presses a rubber sleeve against another, heated, rotating cylinder. Thereby the sleeve briefly gets compressed and laterally expanded, afterwards relaxing to its normal thickness. The cloth to be treated is transported between rubber sleeve and heated cylinder and is forced to follow this brief compression and lateral expansion, and relaxation. It is thus shrunk. The greater the pressure applied to the rubber sleeve during the sanforization process, the less shrinking will occur once the garment is in use. The process may be repeated. The aim of the process is a cloth which does not shrink significantly during production, cutting, ironing, sewing or, especially, by wearing and washing the finished clothes.
Learn more about selecting jeans.