Is it cold outside?
Welcome to the worlds greatest guide to women's down jackets.
Down is a fine thermal insulator and padding, used in goods such as women's outerwear. The down of birds is a layer of fine feathers found under the tougher exterior feathers. Very young birds are clad only in down.
Benefits of Down: Down is warm, lightweight and packable. If well cared for, it retains its loft up to three times longer than do most synthetics.
The Down Side of Down (negative side of down): when it is wet, the thermal properties of down are virtually eliminated. Down forms clumps if exposed to dampness or moisture, and will mildew if left damp. In addition, it will absorb and retain odors.
How does down work: The loose structure of down feathers traps air, which helps to insulate against heat loss.
A jacket is a mid-stomach–length garment for the upper body. A women's down jacket is a quilted jacket filled with down feathers.
Quilting is the process of sewing two or more layers of fabric together to make a thicker padded material, usually to create a quilt or quilted garment.
In the United States, Federal Trade Commission regulations require that any product labeled "100% Down" must contain only down feathers, while products labeled simply "Down" can contain a mixture of fiber and feathers. In addition, products labeled as "Goose Down" must contain at least 90% goose down, 10% goose feathers.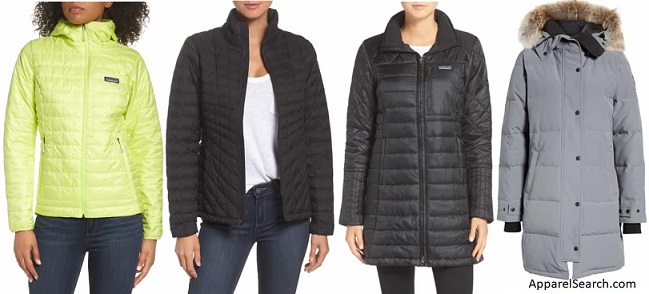 Down insulation is rated by fill power, which is the number of cubic inches displaced by a given ounce of down (in3/oz). To measure fill power, an ounce of down is placed into a graduated cylinder, and a small weight is dropped in on top of it; the volume below the weight indicates the fill power. Eider down has the highest fill power, at 1200. However, even down with a fill power as low as 550 still provides reasonably good insulation.Higher fill-power downs will thus insulate better than lower fill-power downs of the same weight. Insulation in most outdoor equipment ranges from about 400 to 900 in3/oz (230–520 cm3/g). Down rated 500–650 in3/oz (290–375 cm3/g) is warm enough and light enough for most conditions, and 800–900 in3/oz (460–520 cm3/g) fill is used for very lightweight and/or very cold-weather gear.
For centuries, humans across the globe have used down feathers for insulation. Russian documents from the 1600s list "bird down" among the goods sold to Dutch merchants.
The down fill of a jacket will be either goose down, duck down or a combination of the two. Goose down is often regarded as the warmest and lightest but duck down jackets, or jackets with a combination, are often cheaper.
If you are a jacket manufacturer, you may want to find feather and down suppliers.
You may also want to learn more about the following companies:
Helly Hansen Cold Weather Jackets
Learn about other Skiwear Brands.
A women's ski jacket covers the arms and torso, sometimes just to the waist while other times reaching down over the buttocks. It can be a separate item or part of a two-piece ski suit together with matching ski pants. Ski jackets are often made with down.
We suggest you visit your local retailer to search for this season's most innovative, lightweight, packable and weatherproof jackets that harness down's superior insulation abilities. You may find the perfect puffer jacket filled with down to keep you warm all winter. Keep in mind, winter is coming. And so is the snow.
Probably a good idea to also check out the down fashion blog posts for additional research on this topic..
Apparel Search is a leading guide to fashion, style, clothing, glam and all things relevant to apparel. We hope that you find this women's down jacket page to be helpful.
What ever type of outerwear you are wearing is in fashion. Hopefully it is warm enough to keep the chill off. If you want to be even more stylish, you should wear your favorite down jacket today.
Do you need special sizing? You may want to learn about petite down jackets or plus size down jackets.

You may find the following pages of our site to be of interest:
Thank you for using the Apparel Search website.
Women's Clothes Directory: A B C D E F G H I J K L M N O P Q R S T U V W X Y Z