Lana Del Rey wore a white Moschino tuxedo especially made for her at Trophée Chopard Party in Cannes.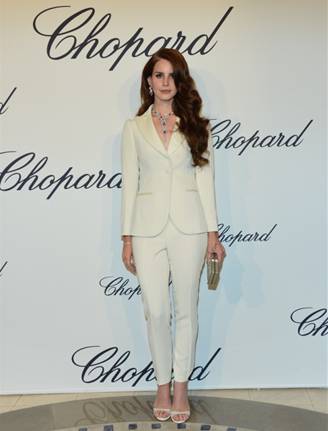 Learn more about the
Trophée Chopard Party in Cannes.

Learn more about Moschino and Moschino Cheap and Chic at the Moschino website.
Read previous fashion event news articles from our news archive: Fashion Event Articles 2011
If you would like to review additional categories other then event news, you can research previous fashion news reports from these links: 2011 Fashion Articles, 2010 Fashion Articles and 2009 Fashion Industry Articles.
Here are a few fashion calendars that you may find helpful if you are would like to attend an event:
If you work for a fashion designer, popular fashion brand, or fashion event organizer, you are welcome to list your events on the calendar.
You may want to read fashion blogs to learn more about fashion events. Fashion bloggers typically do a good job with reporting on fashion events. If you happen to fancy yourself a Fashion Writers, you are welcome to test out the fashion blog at FIN.
You may want to also review the following resources:

Fashion