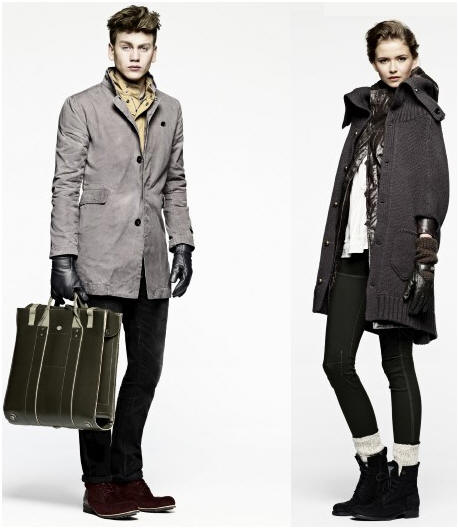 It is very rare to see denim gracing the catwalk, but Dutch designer jeans company G-Star Raw have taken things to a high fashion level.
Evolving into a European super-brand with a cool, edgy urban vibe, G-Star uses raw untreated denim and a unique architectural, three-dimensional approach to its designs.
Celebrity faces for their campaigns have included Liv Tyler and Gemma Arterton, though G-Star's main success has remained on the high street with the youth market as their leading consumers.
Influenced by military uniforms and other street style clothing, G-Star incorporates a number of pockets and zip detailing into their designs so that the functionality becomes thoroughly integrated with the look.
Not only do they offer denim, but leather-wear pieces and army boots aim to toughen up the image. Bizarrely, G-Star also collaborated on the 'Raw Ferry' – a revamped Amsterdam canal boat as part of a fleet of VIP taxis. Swish!
Exclusively leading the way in brand new denim technology, the tailoring and ambitious designs make G-Star stand out against other brands who are still churning out the old 'worn-in' formula which has become a little too commonplace for contemporary arbiters of taste.
Whilst jeans may be usually the official byword in casual-wear, G-Star has reinvented denim as the ultimate high fashion staple.
G Star Resources:

Official Website
G Star Jeans
Read more fashion industry news archive from 2011:
2011 Fashion Articles January 2011 Fashion Articles February 2011 Fashion Articles March 2011 Fashion Articles April 2011 Fashion News Articles May 2011 Fashion Articles June 2011 Fashion Article Archive July 2011 Fashion Article Archive August 2011 Fashion Article Archive September 2011 Fashion Article Archive October 2011 Fashion News Article Archive
Read more fashion articles from 2010: 2010 Archive - Fashion Articles
Read more fashion articles from 2009: 2009 Archive - Fashion Articles
Search for additional information about Apparel, Fashion or Clothing.