The 2012 Ego Soleil Collection brings a burst of culture and sophistication to women's fashion. This bold yet delicate line gives the modern woman flexibility to work and play hard, with versatile designs she can wear confidently from the office into the evening. Ego Soleil represents an evolving culture, allowing women to use inspirations from the past to move forward confidently. The Spring/summer 2012 collection enables women to liberate themselves from the confines of societal norms and embrace the elements that make them unique.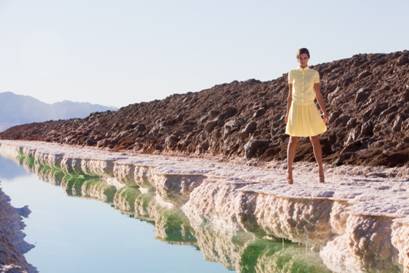 Ego Soleil fuses classic colors with an edge, bringing the sophistication of color against a palette of white and sandstorm, grounding the soul and uplifting the spirit. The fresh pops of bright yellow and ice blue embolden us to face every day with confidence.
"When we were designing this line, we were thinking about the woman wearing the clothes, her love of flexibility in these designs because she works hard and plays hard and often needs versatile designs she can wear from day into the evening," said Sargine Brutus, co-founder of Ego Soleil.
A bit of androgyny with subtle references to twenties, forties, and sixties, the patterns are cut into fabrics that present an expression of character, forcing you to sit up and pay attention, to deconstruct the familiar.
Design details like rope and nylon cords update feminine fabrications reflecting the wearer's independence and strength while framing her elegance and grace.
Ego Soleil was recently founded by Del Alfred and Sargine Brutus, residents of Washington D.C. For more information please visit egosoleil.com.
Read more fashion news articles from 2012: January 2012 Fashion Articles
Read more fashion industry news archive from 2011: 2011 Archive Fashion Articles
Read more fashion articles from 2010: 2010 Archive Fashion Articles
Read more fashion articles from 2009: 2009 Archive Fashion Articles

If you want your press releases about fashion to be published, you are welcome to submit them to Apparel Search at any time. In addition, you may want to submit your articles to the Fashion Newspaper.


Here on Apparel Search you can learn more about fashion in many various ways. Certainly, one way is to read fashion news articles.
If you have suggestions on ways that we can improve this page, please do not hesitate to let us know.