Here on Apparel Search you can learn more about
fashion
in many various ways. Certainly, one way is to read fashion news articles.

If you have suggestions on ways that we can improve this page, please do not hesitate to let us know.

Forget the little black dress this Spring, it's all about brights. Pantone® color guru, Leatrice Eiseman, says that brights are in for Spring 2012 because, "they are the quickest way to add a sense of joy to the new season. Not only will you feel great in these vibrant hues, but you'll brighten the day of anyone you come in contact with."
Brights are the easiest way to make a bold statement and the Ramy Brook collection is all about color; add a pop in a top while keeping accessories and bottoms neutral to stay on trend. Jane Post coats also make a splash this season; the fuchsia ruffle-front coat is a florescent twist on the classic trend while the blue London Parka is a take on this season's anorak. If a bright outfit seems a little too daring, accessories are the way to go. BLUES by kyky offers color clutches and purses, a perfect way to add a bit of bright.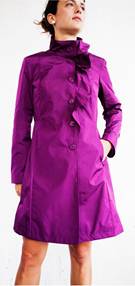 Read more fashion news articles from 2012: January 2012 Fashion Articles
Read more fashion industry news archive from 2011: 2011 Archive - Fashion Articles
Read more fashion articles from 2010: 2010 Archive - Fashion Articles
Read more fashion articles from 2009: 2009 Archive - Fashion Articles

Follow us on Social Networks:
Follow Apparel Search on Twitter
Follow Apparel Search on Youtube
Follow Apparel Search on Facebook
Fashion on Google+
If you want your press releases about fashion to be published, you are welcome to submit them to Apparel Search at any time. In addition, you may want to submit your articles to the Fashion Newspaper.

Search for additional information about Apparel, Fashion or Clothing.
Fashion Trends
Color Trends
Fashion Trends on G+
You may also find the following links to be of assistance:

Fashion Jobs
Designer Search
Fashion Forecasting
Celebrity Fashion
Luxury Fashion
Fashion Week
Fashion Brands
Fashion Trends

You may also have interest in the fashion shopping articles ...
If you are tired of simply reading about fashion, you may want to take a break and do a little shopping. If that is the case, you are welcome to visit our shopping section from the links below:
Shopping For Children's Clothing

Here are a few more apparel news resources that you may enjoy.
You may want to also visit the new fashion articles site (FashionArticles.net)
Have you ever dreamed of becoming a fashion designer?