Here on Apparel Search you can learn more about
fashion
in many various ways. Certainly, one way is to read fashion news articles.

If you have suggestions on ways that we can improve this page, please do not hesitate to let us know.
Numerous personalities illuminated the cocktail party launching designer Christophe Guillarmé luggage collection to discover this exclusive line developed by Platinium in polycarbonate, illustrated with couture designs and an exclusive way to get away in style!
Effervescent Sofia Essaïdi charmed everyone in her mini dress of red and black silk with sequin embroidered shoulder pads.
Soon to be seen in the film, « Like a Leader » with Jean Reno, actress Salome Stévenin was very glamorous in her mini dress of satin and lasercut black lace.

Natacha Amal, resplendant in a black dress decorated with feathers and embroidery, was excited to discover the silk tulle dresses from the new autumn-winter 2012-2013 collection by Christophe Guillarmé.

TV host Daniela Lumbroso and Karine Lima in a cutwork red beaded dress, pointed out the details of every suitcase.

All succumbed to unbelievable lightness and to inventive fancy of the suitcases among which the actresses Mélanie Maudran and Mary-Sophie L. in a mini dress with seethrow waist.
Annabelle Milot and Séverine Ferrer introduced the suitcases to the delighted photographers.
This intensely private presentation was held in the luxurious Hotel Renaissance Paris Arc de Triomphe at the opening of the Haute Couture Week.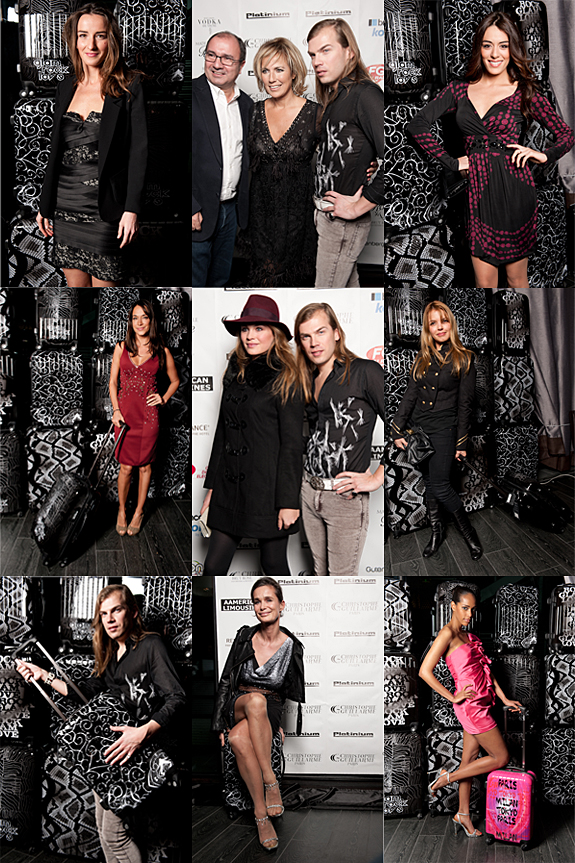 pictures credit : Stéphane Hattchouel
Salomé Stévenin - Alain Seroussi, Natacha Amal, Christophe Guillarmé - Sofia Essaïdi - Karine Lima - Mélanie Maudran, Christophe Guillarmé - Séverine Ferrer - Christophe Guillarmé - Marie-Sophie L. - Mandy
Learn more about
Christophe Guillarmé.

You may want to also read the fashion event article Christophe Guillarme Paris Fashion Week September 2011.
Read more fashion news articles from 2012: January 2012 Fashion Articles
Read more fashion industry news archive from 2011: 2011 Archive - Fashion Articles
Read more fashion articles from 2010: 2010 Archive - Fashion Articles
Read more fashion articles from 2009: 2009 Archive - Fashion Articles

Follow us on Social Networks:
Follow Apparel Search on Twitter
Follow Apparel Search on Youtube
Follow Apparel Search on Facebook
Fashion on Google+
If you want your press releases about fashion to be published, you are welcome to submit them to Apparel Search at any time. In addition, you may want to submit your articles to the Fashion Newspaper.

Search for additional information about Apparel, Fashion or Clothing.
If you are interested, you can discussus Christophe Guillarme on Google+.
You may also find the following links to be of assistance:

Fashion Jobs
Designer Search
Fashion Forecasting
Celebrity Fashion
Luxury Fashion
Fashion Week
Fashion Brands
Fashion Trends

You may also have interest in the fashion shopping articles ...
If you are tired of simply reading about fashion, you may want to take a break and do a little shopping. If that is the case, you are welcome to visit our shopping section from the links below:
Shopping For Children's Clothing

Here are a few more apparel news resources that you may enjoy.
You may want to also visit the new fashion articles site (FashionArticles.net)
Have you ever dreamed of becoming a fashion designer?