Last year wedding dress designer extraordinaire Vera Wang showcased a line of wedding gowns largely dominated by dramatic black dresses during New York's bridal fashion week. Do you need any more convincing that black is back? While black wedding dresses aren't for everyone, it is a fantastic choice for adventurous brides who live off fashion risks.
Yes, black is often associated with mourning, but for menswear, it has long been accepted and expected as the formal color of choice. Why shouldn't it be the same for women? Black is also a wonderful contrast color so your jewelry and other accessories will really pop! If you're deadset against a black dress, don't rule the color out completely. Black can also be used effectively as an accent such as a sash, a pashima, or shoes. The contrast can be as bold as a bright of splash of color, but it's much classier!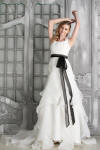 If black is too untraditional for you, consider this: wedding dresses are a recent invention. Back in the day, women often wore their best gown to their weddings, and most weren't white. Whether it's a little black dress or an ebony hued ball gown, black wedding wear always make a statement. And if you want to go the practical route, black is something you can wear over and over again.
But before you get the idea that black is just for sophisticated indoor weddings, matched with the right silhouette and fabric, a black wedding dress or bridesmaid dress can be both casual and chic!
And the best part is that if you sweat bullets during the most nerve-racking and exciting parts of the wedding, black won't show as much as lighter colors. However, we wouldn't recommend skipping the antiperspirant.
---
This fashion article was written for Apparel Search by Natalie Tsang. Natalie is the editor of the SimplyBridal blog. She was born and raised in California and is a hopeless romantic. She dreams of a whimsical, rustic wedding.
Read more fashion news articles from 2012:
Read more fashion industry news archive from 2011: 2011 Archive Fashion Articles
Read more fashion articles from 2010: 2010 Archive Fashion Articles
Read more fashion articles from 2009: 2009 Archive Fashion Articles


Follow us on Social Networks:
Follow Apparel Search on Twitter
Follow Apparel Search on Youtube
Follow Apparel Search on Facebook
If you want your press releases about fashion to be published, you are welcome to submit them to Apparel Search at any time. In addition, you may want to submit your articles to the Fashion Newspaper.