No, I don't have a small chest, you just can't see them because they are camouflaged.
The word "camo" is an abbreviation of the word "camouflage". The term camouflage means, the use of any combination of materials, coloration, or illumination for concealment. In regard to a brassiere the use of camouflage is more of a fashion statement than concealment.
A bra, short for brassiere, is a form-fitting undergarment suspender designed to support or cover the wearer's breasts. Wearing one with a camo print design does not necessarily mean that the wearing is a fan of hunting or the military. However, it can also mean exactly that.
A camo bra provides support as a typical bra but is printed similar to other types of camouflage clothing.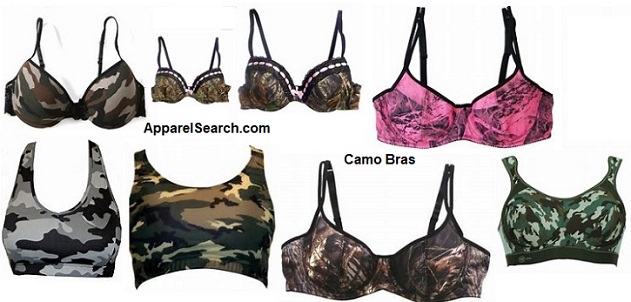 Apparel Search is a leading guide to fashion, style, clothing, glam and all things relevant to apparel. We hope that you find this Women's Camo Bras page to be helpful.
What ever you are wearing, is in fashion.
If you want to be even more stylish, you should wear your favorite camo brassiere today.
Return to Women's Clothes Directory C.

Thank you for using the Apparel Search website.