Welcome to the worlds greatest guide to Women's Camo Coats.
A coat is an outer garment worn outdoors, having sleeves and typically extending below the hips. Camo is short for camouflage. One definition of the term means the disguising of military personnel, equipment, and installations by painting or covering them to make them blend in with their surroundings. It also means to hide or disguise the presence of (a person, animal, or object) by means of camouflage. Although those definitions are correct, camo does not only have to be used to disguise. It can also simply be worn because it looks interesting, trendy, or simply fabulous.
Camo coats are nice for hunters & the military, but they are also trendy items for fashionistas. You don't have to be a hunting enthusiast to enjoy a camo print coat.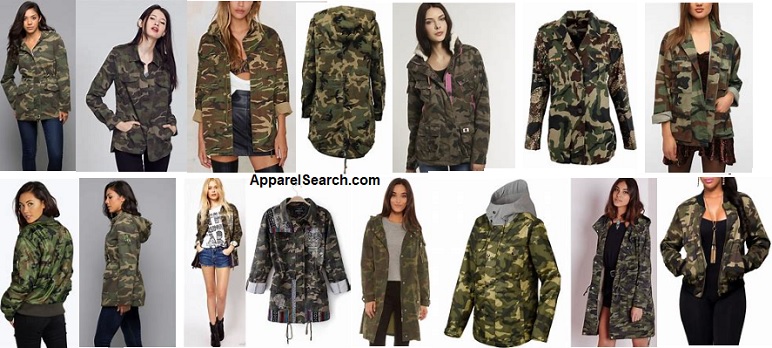 What is the difference between a coat and jacket?
You might find the following clothing categories of interest.
If you want to be even more stylish, you should wear your favorite outerwear today.Apparel Search is a leading guide to fashion, style, clothing, glam and all things relevant to apparel. We hope that you find this Women's Camo Coats page to be helpful.
What ever you are wearing, is in fashion.

Return to the top of this Camo Coats Guide page.
Thank you for using the Apparel Search website.