A shirt is a garment for the upper body.
A t-shirt is a short-sleeved casual top, generally made of cotton, having the shape of a T when spread out flat.
A v-neck is a a neckline of a garment, having straight sides meeting at a point to form a V-shape. Yes, we mean the letter "V". The v-neck shape is formed by two diagonal lines from the shoulders that meet on the chest of the tee creating a V shape. The depth of the V can vary, ranging from demure styles to plunging.
Cotton is a soft white fibrous substance that surrounds the seeds of a tropical and subtropical plant and is used as textile fiber. It is knit or woven into fabric which is then utilized to making apparel.
A ladies v-neck cotton t-shirt is a common garment that can be found in most wardrobes. Anchor your wardrobe with quality comfortable tees made of cotton. You can find casual styles in vibrant colors for every day of the week.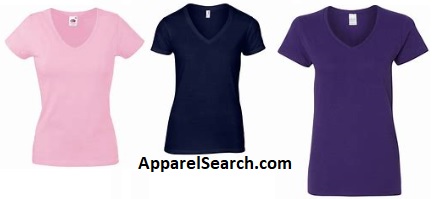 Apparel Search is a leading guide to fashion, style, clothing, glam and all things relevant to apparel. We hope that you find this Women's Cotton V-neck T-shirts page to be helpful.
What ever you are wearing, is in fashion.
If you want to be even more stylish, you should wear your Women's Cotton V-neck T-shirts.
Take a moment to do a bit more research regarding thefabulous cotton fiber.
Learn about women's cotton fashion.

Thank you for using the Apparel Search website.