In this women's clothing section of the Apparel Search directory, you will find all sorts of interesting information regarding women's cotton v-neck tees.
Simply put, a v-neck is a a neckline of a garment, having straight sides meeting at a point to form a V-shape. Yes, we mean the letter "V".
This style of neckline can be utilized on an assortment of ladies tops. For example, sweaters, t-shirts, hoodies, etc. Our favorite item, would be the tee (because that is the garment being discussed on this page).
The neckline is the top edge of a garment that surrounds the neck, especially from the front view.
The vneck formed by two diagonal lines from the shoulders that meet on the chest of the tee creating a V shape. The depth of the V can vary, ranging from demure styles to plunging. The surplice version of this neckline (known as a portrait neckline) is an alternative. The V may also be truncated by a small bottom edge, forming a trapezoid.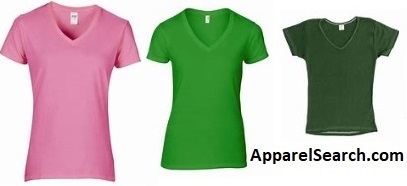 The deeper the V-line the more cleavage potentially exposed.
Cotton is a soft, fluffy staple fiber. The fiber is most often spun into yarn or thread and used to make a soft, breathable textile. The fabric is often used to make fabulous ladies tops with v-neck necklines. Learn more about the benefits of cotton.
Apparel Search is a leading guide to fashion, style, clothing, glam and all things relevant to apparel. We hope that you find this ladies cotton V-neck tees page to be helpful.
What ever you are wearing, is in fashion.
If you want to be even more stylish, you should wear your Women's Cotton V-neck Tees.

Thank you for using the Apparel Search website.