Fashion Articles 2011

Fashion Articles 2010
Sherel's is a New York-based hat house, and celebrity favorite of Leighton Meester, Hilary Duff, Blake Lively, Betsy Johnson, Mischa Barton, Selena Gomez, and Elizabeth Olsen.
With a collection of more than 2,500 wooden hat blocks, some dating back before 1900, Sherel's is one of the most dynamic millineries in the world. Best known for their ultra chic shapes and lux, quirky fabrications, Sherel's hats are crafted from the most exclusive materials around the world – including custom dyed straw from Switzerland and Italian velour that takes more than 100 steps to produce.
Sherel's is designed by real life mad hatters (and brothers) Tomer (29) and Omri Amar (25), who recently took over the twenty-five-year family business. The two take great pride in the quality and workmanship of every hat they create, finishing each piece by hand on sewing machines from 1880 - 1920, mirroring the craft of hats made in the 19th century. The duo has designed two runway collaborations for Betsy Johnson and has been featured throughout the current season of Gossip Girl. Sherel's offers casual and dress styles for men and women, and is available at their five (5) New York boutiques, on www.sherels.com, or at select fine retailers nationwide.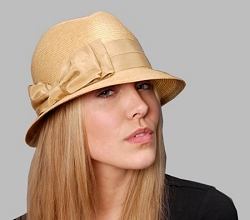 Read more fashion news articles from 2012: January 2012 Fashion Articles
Read more fashion industry news archive from 2011: 2011 Archive Fashion Articles
Read more fashion articles from 2010: 2010 Archive Fashion Articles
Read more fashion articles from 2009: 2009 Archive Fashion Articles

Follow us on Social Networks:
Follow Apparel Search on Twitter
Follow Apparel Search on Youtube
Follow Apparel Search on Facebook
If you want your press releases about fashion to be published, you are welcome to submit them to Apparel Search at any time. In addition, you may want to submit your articles to the Fashion Newspaper.