Mireille Enos walking the red carpet at the 2012 Golden Globes. Enos paired her yellow Naeem Khan gown with Alexandre Birman silver metallic in satin.
Enos was nominated for Best Performance by an Actress in a Television Series - Drama for her role in AMC's The Killing.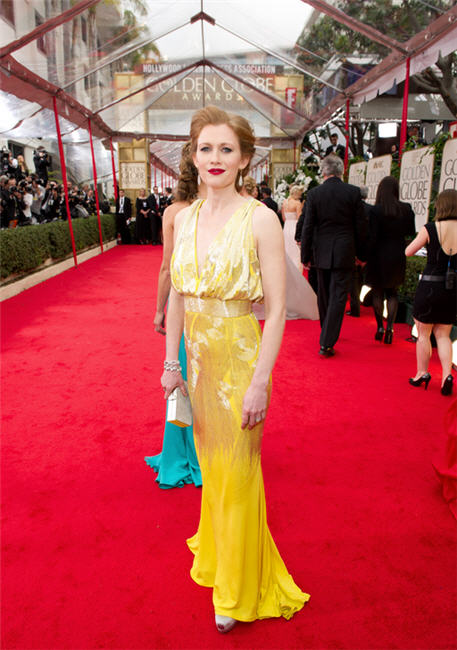 (click to enlarge)
About Alexandre Birman:
Alexandre Birman began his shoe designing career at the age of 12 at his father's shoemaking factory in Brazil. After debuting his own namesake line in the U.S. market in Spring of 2008, Alexandre Birman's high-fashion women's collection has been picked up by some of the world's most prestigious retailers, such as Neiman Marcus, Saks Fifth Avenue, Bergdorf Goodman, Net-a-porter, Printemps and Lane Crawford. Birman was recently honored with The Vivian Infantino Emerging Talent Award, recognized as the new talent of the footwear industry by the respected Footwear News Achievement Awards. His innovative designs and strong brand image has resulted in Birman's collection taking the American shoe market by storm and continued publicity from the world's top Fashion publications. Hollywood celebrities including Kate Hudson, Demi Moore, Jennifer Lopez, Blake Lively, Anne Hathaway, Anna Paquin, Jessica Alba, Leighton Meester, Diane Kruger, among countless others. Name recognition of his brand aired on the first season of CW's "Gossip Girl" in Spring of 2010, when Meester's character, Blair, mentioned Birman's name and confessed her undying love for his signature peep toe booties.
Read more fashion news articles from 2012: January 2012 Fashion Articles
Read more fashion industry news archive from 2011: 2011 Archive Fashion Articles
Read more fashion articles from 2010: 2010 Archive Fashion Articles
Read more fashion articles from 2009: 2009 Archive Fashion Articles
Follow us on Social Networks:
Follow Apparel Search on Twitter
Follow Apparel Search on Youtube
Follow Apparel Search on Facebook
If you want your press releases about fashion to be published, you are welcome to submit them to Apparel Search at any time. In addition, you may want to submit your articles to the Fashion Newspaper.


Rocker Chic(k) Trendy Red Carpet
You may also find the following links to be of assistance:

Fashion Jobs
You may also have interest in the fashion shopping articles ...
If you are tired of simply reading about fashion, you may want to take a break and do a little shopping. If that is the case, you are welcome to visit our shopping section from the links below:
Shopping For Children's Clothing

Here are a few more apparel news resources that you may enjoy.
Have you ever dreamed of becoming a fashion designer?