Welcome to the women's fashion retail guide page # 2.
Retail by Headquarters Location
Retailer by Clothing Store Name
Women's Clothing Retailers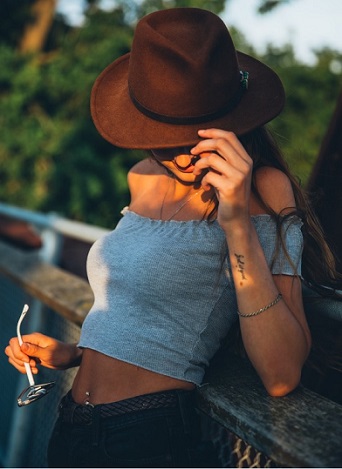 Casual Corner: In 1969, the company was purchased by the U.S. Shoe Corporation, and by 1980 it became one of the country's most successful specialty retailers. During the 1980's, in response to the growing demand for an increased range of sizes, the Women's Specialty Retailing Group was formed. Under that umbrella, the company purchased Petite Sophisticate and created August Max Woman, expanding its market to include special sizes. In May of 1995, Luxottica Group S.p.A., world leader in the design, manufacture and marketing of high quality eyewear, acquired the U.S. Shoe Corporation, which included the Women's Specialty Retailing Group and LensCrafters, the world's largest optical retailer. In October 1995, the Women's Specialty Retailing Group was transformed into a separate entity called Casual Corner Group, Inc., owned by the Del Vecchio family, who also controls Luxottica Group.
---

Century 21 Department Stores: Established over 40 years ago, Century 21 Department Stores has established an impeccable reputation for fine quality merchandise at excellent prices, coupled with superior customer service.
---

Chadwick's of Boston In 1983, they decided to offer women a wide selection of high-quality, brand-name merchandise, at-home shopping convenience and prices lower than department and specialty stores. It was an idea that gave birth to the nation's first, and favorite, off-price fashion catalog for women. Today, millions of smart, savvy women shop in the comfort of their homes for career and casual fashions, shoes and accessories and much more from their catalogs and website. The variety is extensive, from dyed-to-match outfitting, to swimwear and bridal party gowns, they always offer updated styles and complete wardrobe solutions for every woman's apparel needs. Chadwick's is the one-stop, convenient shopping solution for today's busy lifestyles. Chadwick's employs more than 2,000 people at its headquarters in West Bridgewater, Massachusetts.
---

Chanel learn about Chanel from our definitions section.
---

Charlotte Russe: Charlotte Russe stores deliver style in clothing and accessories, providing an exciting, fashionable assortment of merchandise that compliments virtually every facet of our customers' lifestyle. The stores provide fashion and lifestyle needs of young, fashion-conscious women in their teens and early twenties, offering trend right apparel and accessories at value prices.
Women's Clothing Store

Learn more about Charlotte Russe from our apparel industry stock market information section.
---

ChickDowntown.com: ChickDownTown.com proudly stands behind the authenticity of all its products. All of their merchandise is new and guaranteed to be authentic. ChickDownTown.com is committed to providing their customers with the hottest trends in luxury fashion. As a result of the trusted relationships they have with their vendors, you can shop with confidence. Thus, any brand, whether it be Gucci, Movado, Cartier or any other brand, is genuine. Selling counterfeit products as the genuine article is a violation of federal law. All of their products are stated by their company to be genuine and authentic.
---

Chico's FAS, Inc. Chico's sells exclusively designed, private-label women's clothing and related accessories. The Company operates 780 women's specialty stores, including stores in 47 states, the District of Columbia, the U.S. Virgin Islands and Puerto Rico operating under the Chico's, White House|Black Market, soma by Chico's, and Fitigues names. The Company owns 501 Chico's front-line stores, 31 Chico's outlet stores, 197 White House|Black Market front-line stores, 8 White House|Black Market outlet stores, 15 soma by Chico's stores, 12 Fitigues front-line stores and 2 Fitigues outlet stores; franchisees own and operate 14 Chico's stores. Established in 1983, Chico's began in a small store on Sanibel Island, Florida with Marvin and Helene Gralnick selling Mexican folk art and cotton sweaters. From their exclusive, private-label designs to their most amazing personal service, Chico's is truly a unique retail environment. When you walk into any Chico's store, you can depend upon the sales staff to coordinate, accessorize, and help you build a wardrobe to suit your needs. All their products are designed and developed by their Product Development Team in their Headquarters in Fort Myers, Florida which enables them to provide you with new styles every week.
---

Club Monaco : Club Monaco was founded in 1985 in Toronto with the idea of creating a line of "better basics." Through the '90s, the brand continued to grow, moved to New York City, and caught the attention of iconic American designer Ralph Lauren as a unique voice in the industry—so much so that he acquired Club Monaco in 1999. Today, Club is an evolution of its heritage: a modern, urban-minded brand with an element of ease and a spark of entrepreneurship from its Canadian roots.
---

Coach handcrafted a collection of leather goods using skills handed down from generation to generation. Discerning consumers soon began to seek out the quality and unique nature of Coach craftsmanship. Now greatly expanded, Coach continues to maintain the highest standards for materials and workmanship. Coach's exceptional work force remains committed to carefully upholding the principles of quality and integrity that define the company. They attribute the prominence of the Coach brand to the unique combination of our original American attitude and design, their heritage of fine leather goods and custom fabrics, their superior product quality and durability and their commitment to customer service.
---

Coldwater Creek their headquarters in Sandpoint, Idaho, tucked away between the Selkirk and Cabinet Mountains on the shores of Lake Pend Oreille. They specialize in women's apparel, jewelry, accessories and gifts. Their merchandise is offered through a growing number of retail stores across the country, on their Web site at www.coldwatercreek.com, and in their direct-mail catalogs. 21 years ago they began as a home business with only one phone, an extra-long cord, a closet stuffed with merchandise and a fierce determination to set new standards for mail order service. Today, they have approximately 4,000 employees and the home office has grown to a 20-acre campus surrounded by broad mountain vistas. Their East Coast Operations Center in Mineral Wells, West Virginia, ships packages to their large base of customers, while also replenishing their stores from coast to coast.
---

Copper Penny : Copper Penny is an upscale ladies clothing boutique offering sassy clothing, shoes and accessories. Designers include: Trina Turk, Nanette Lepore, Kate Spade, Donald Pliner, Herve Chapelier, Hollywould, Ellen Tracy, Anne Klein.Address: 317 King Street Charleston South Carolina 29401 USA Phone: 843-723-2999 or 843-723-3838 Email: sales@shopcopperpenny.com Contact: Bryan Vaigneur - owner
Gender: Women's

Store

Type: Online Retailer

Retail

Category: Specialty
---

Cy-Va at 222 is a Women's Apparel Boutique that carries only Made in the USA clothing and accessories. They promote local artisans of accessories. They also do small contract sewing. They are a new company, small but growing, and currently sew for a New York clothing designer but would like to expand their services. They are a women owned business, located in Janesville, Wisconsin. Cy-Va at 222 222 West Milwaukee Street Janesville, WI 53548 608-373-9711 e-mail: cyva@att.net Cy-Va at 222 on Facebook.
Women's Fashion Boutique
Sewing Contractor
---

Damart Damart first became a household name in the 1950s due to the success of its French founders, the Despature brothers. The two brothers broke new boundaries by creating an exciting new textile fibre called Thermolactyl, which they quickly patented to produce a variety of high quality thermal goods! So marvellous was Thermolactyl that, soon after its launch in 1953, it became widely known as the 'magical fibre'! The Damart brand continued to cultivate the feeling of well being with Thermolactyl for over 50 years and this unique fibre remains unsurpassed today in terms of its ability to provide the ultimate in lightweight insulation against the elements. It has attracted increasingly loyal custom in particular those who appreciate its special qualities of warmth and comfort. Not surprisingly, Thermolactyl garments have endured as fashion essentials for all those wanting to lead active lives without bulky layers of clothing! Now established in countries throughout the world including the United Kingdom, Belgium, Switzerland, France and Japan. Damart is a truly global brand.
---

DONNA KARAN NEW YORK: Donna Karan International has diversified into myriad divisions addressing every age and lifestyle, including beauty and home furnishings. Karan began her career at a summer job assisting Anne Klein. After three years as associate designer, Karan was named successor following Klein's death in 1974, a position Karan held with partner Louis Dell'Olio. Ten years later, Karan went out on her own. Fall 1985 saw the first Donna Karan Collection. Since then, the CFDA has saluted Karan an unprecedented seven times, including this year's Lifetime Achievement award which coincided with Karan's company's 20th anniversary.
Learn more about Donna Karan.
Learn about the women's Donna Karan fashion brand.
Learn more about Donna Karan in our fashion designer section.
---

Draper's & Damon's they are the central address for inspired women's fashion that dresses you beautifully for life's every occasion. From the minute you walk into their stores, open their catalog or visit their web site, you know you've found someplace exceptional. Their customers know this is the only destination for stylish clothes, extraordinary attention to detail and personal service you just don't find anywhere else. When Virginia Draper opened the Draper's Studio of Modes in 1927, she had a dream-to sell "smart things to wear" along with the very best service. Little did she know what her dream would become-a multi-channel specialty retailer with 49 stores nationwide, web site and an annual catalog circulation of over 30 million. Today, their company employs over 700 people, and theirheadquarters is located in beautiful Irvine, CA, not far from where Virginia opened her first shop in Pasadena.
---

Dress Barn: women's clothing store. With numerous stores across the country, dressbarn strives to maintain its distinctive position in the marketplace by providing its own private labels and contemporary fashions at great value in an environment that is friendly and trustworthy. Ascena Retail Group, Inc. (Nasdaq: ASNA) is a national specialty retailer offering apparel, shoes, and accessories for women under the Premium Fashion segment (Ann Taylor, LOFT, and Lou & Grey), Plus Fashion segment (Lane Bryant, Catherines and Cacique), for tween girls under the Kids Fashion segment (Justice), and Value Fashion segment (dressbarn). Ascena Retail Group, Inc. through its retail brands operates ecommerce websites and approximately 3,400 stores (as of 2019) throughout the United States, Canada, and Puerto Rico.
---

Eddie Bauer: Eddie Bauer is a premium outdoor-inspired casual wear brand offering distinctive clothing, accessories and home furnishings for men and women that reflect a modern interpretation of the company's unique outdoor heritage. Eddie Bauer offers premium merchandise through its two retailing concepts: Eddie Bauer and Eddie Bauer Home. In its 83-year history, Eddie Bauer has evolved from a single store in Seattle to a tri-channel, international company with many retail stores. Eddie Bauer operates stores in the U.S. and Canada, and through joint venture partnerships in Germany and Japan.
---

Ellen Tracy women's fashion brand.
---

Escada ESCADA is an international luxury fashion group in women's designer fashion. It has pursued a course of steady expansion since its founding in 1976 by Margaretha and Wolfgang Ley and today has 201 own shops and 303 franchise shops/corners in more than 60 countries. Under its core brand ESCADA, the ESCADA Group sells women's designer fashions (ESCADA Collection and ESCADA Sport) for daytime, evening, business, leisure, sports and luxury spa, for special occasions (ceremonia), and couture. The range of fashions is supplemented with accessories like handbags, shoes and small leather goods. Fragrances, eyewear and kids wear from licensed partners are also sold under the ESCADA brand.
---

Eskimo Joe's Eskimo Joe's was the brainchild of Steve File, a pal of Stan Clark since the two were in fifth grade. One fateful Sunday afternoon in May, 1975, Steve proclaimed, "Hey, I'm gonna open a bar!" Stan said, "I know where there's a two-story building for rent. I'll go in partners with you!" Within minutes, these two wild and crazy guys had agreed to rent the building at 501 W. Elm. Steve came up with the name Eskimo Joe's, and Bill Thompson, a freshman commercial art student, drew the famous logo with a magic marker. "I loved it the second I saw it!" Stan says. And so, Eskimo Joe and Buffy were born. Now they sell shirts, hats etc.
---

ESPRIT: Esprit is an international youthful lifestyle brand offering smart, affordable luxury and bringing newness and style to life. The Group offers 12 product lines encompassing women's wear, men's wear, kid's wear, etc youth as well as shoes and accessories through over 640 directly managed retail stores and over 12,000 wholesale point-of-sales worldwide, occupying over 817,000 square meters directly managed retail space in more than 40 countries. Esprit licenses its logo to third party licensees that offer products bearing the same Esprit quality and essence to consumers. Esprit also operates the Red Earth cosmetic brand which includes cosmetics, skin care and body care products.
---

Express (division of Limited Brands) Express is a specialty apparel and accessories retailer of women's and men's merchandise, targeting the 20 to 30 year old customer. The Company has over 30 years of experience offering a distinct combination of fashion and quality for multiple lifestyle occasions at an attractive value addressing fashion needs across work, casual, jeanswear, and going-out occasions. The Company currently operates more than 600 retail and factory outlet stores, located primarily in high-traffic shopping malls, lifestyle centers, and street locations across the United States, Canada and Puerto Rico. Express merchandise is also available at franchise stores in the Middle East and Latin America. The Company also markets and sells its products through the Company's online store, www.express.com. Corporate Headquarters is in Columbus, Ohio. However, their design studio is located in the heart of the fashion district in New York City. Yes! They do have a team of designers that work every season to bring you the latest and greatest in fashion. The Express promise is to bring hot, new international fashion to hip, style-driven women.
---

Forever21: celebrated by many style conscious and trend savvy shoppers, Forever 21 is growing quickly, featuring new and exciting store environments. The provide clothing designs and the accessories to make your look come together.
---

Free People : is a niche brand, appealing to free-spirited women in their 20's and 30's that veers off the beaten path to design handcrafted, hand-touched detailed clothing. From raw edges to modern lengths, Free People stays the line with fashion's direction all the while offering up its own spin. Along with these homespun designs, Free People seeks to find artisan jewelers, famous foot cobblers and the most coveted denim brands on the market.
---

French Connection they design, produce and distribute branded fashion clothing for men and women to more than 30 countries around the world from their offices in London, New York, Hong Kong and Toronto. Their long-standing success in this most competitive of markets is a testament to the skill, passion and dedication of their employees around the world. They operate under four principal brands, the most significant of which is French Connection accounting for around 85% of global turnover. Their other brands include the well-known designer label, Nicole Farhi, a mail-order based ladies fashion range, TOAST, and a fashion basics range, Great Plains. Although the brands target different audiences they each generate high levels of respect in their chosen markets reflecting the passion and skill poured into the design and manufacture of the products. French Connection operates at the upper end of the middle market offering a fashion-forward range of quality products at affordable prices. Their customers, typically aged 18-35, appreciate that the brand is at the leading edge of high street fashion and offers quality, stylish products. They design ranges of both men's and women's products from underwear to outerwear, casual wear to suits, denim, accessories and kidswear.
---

Fur Feather and Fin: Fur Feather and Fin Ltd, Shooting Accessories with luxury leather gunslips, shooting cartridge bags, cartridge belts, shooting hunting and fishing gifts and men's gifts as well as Country Clothing and Home Gifts with a sporting theme rugby cricket riding racing and golf. Address: Charlton Barns, Charlton, Chichester, West Sussex, PO18 OHX +44 (0)1243 811 844
Men's Clothing Retailer
Women's Clothing Retailer
United Kingdom Clothing Retailer
---

Gap - Women's Clothes : You know the gap from all those commercials The Gap, Inc. is an international specialty retailer that operates stores selling apparel, personal care and other accessories for men, women and children. The Company operates stores under the Gap, GapKids, BabyGap, Banana Republic, and Old Navy names in the United States, Canada, the United Kingdom, France, and Japan. Gap products range from wardrobe basics, such as denim, khakis and T-shirts, to accessories and personal care products for teenagers and adults. Also GapKids and BabyGap stores offer casual basics, outerwear, shoes and other accessories in the tradition of the Gap style and quality, for children aged newborn through teen. Banana Republic offers fashionable and versatile collections of casual-dress and tailored clothing and accessories for men and women, sold at higher prices than other Gap stores. Old Navy addresses the family-oriented market for value priced clothing. Gap Inc. opened the first three Old Navy stores in 1994, in the Northern California cities of Colma, San Leandro, and Pittsburg. Old Navy's mission is to offer affordable, fashionable clothing and accessories for the whole family. All of their merchandise is sold under the Old Navy name and only in their stores or on their website. San Francisco, CA
---

Gianfranco Ferre
---

Gucci you can learn additional information about Gucci from our fashion brand definition section.
---

Guess? The Marciano brothers were raised in the south of France, a region that cultivated a passionate understanding of French design and the essence of style. Combining a love of the American West with a European sensibility they created GUESS?, Inc. Today, GUESS? is one of the most widely recognized brands in the world. Known for quality, trendsetting style, and marketing creativity, the Company designs and markets a leading lifestyle collection of casual apparel and accessories for women, men, children, and babies.
---

Gypsy Moon: Gypsy Moon is a small company that has been in business for 12 years during which they designed, produced and sold their own line of women's clothing. Their clothing is unusual, feminine and romantic. They use only natural fabrics, mostly silk, and they wash and distress everything to give the look and feel of antique clothing. They also have a line of one-of-a-kind pieces made from antique clothing and trims that is entirely hand-made. To see the one-of-a-kind items look at www.gadja.com and for the standard wholesale items go to www.gypsymoon.com . Address: 1780 Massachusetts Ave. Cambridge, MA.02140 Phone:617-876-7095 Fax E-mail: spider@gypsymoon.com Contact: Cheryl Wanner, business manager
---

Haband: conscientious family business serving over 5 million customers direct by U.S. mail since 1925. Founded by M. Habernickel Jr. and John A. Anderson the company, now run by Duke Habernickel and an extended Haband family, offers a full line of men's and women's apparel and accessories. Haband is one of the largest privately held mail order companies in the US.
---

Hanes : women's underwear, loungewear, t-shirts, bras, and more.
More Women's Clothing Stores

Women's Apparel Women's Fashion Brands Fashion Industry Fashion Models Women's Fashion News
You can find additional shopping resources by searching the Amazon database for Women's Clothing
or Juniors Fashion
(actually on their web site they refer to juniors as Teens Clothing
)
If you really want to get detailed, Women's Fashion has many categories. At this time, we may not have pages on the Apparel Search directory for each category. However, we most definitely want to keep you happy and well advised of your options. Therefore, we are providing below a list of categories that you can view via the Amazon database. By searching the women's clothing categories below, you will be able to investigate each clothing category by designer brand name
, price range, clothing store name
etc.
Women's Accessories
Women's Activewear
Dresses
Intimate Apparel
Women's Socks
Women's Jeans
Boot Cut Flare Jeans

Button Fly Jeans

Stretch Jeans

Wide Leg Jeans

Slim Fit Jeans
Women's Pants
Women's Shoes
Thank you for taking the time to visit our women's clothing store guide. If you have suggestions on how we can improve this section, please don't hesitate to contact us.