Next Page (B2) Apparel Glossary
babushka a usually triangularly folded kerchief for the head (scarves)
baby blue a pale blue.
backpack made from many varieties of fabric. However, it is typically made of a sturdy fabric to provide proper support for carrying items. Often used be students to carry books. Apparel Search viewers are often found carrying heavy back packs full of fashion magazines, scissors, fabric and thread. A camping pack, as of canvas or nylon, supported by usually aluminum frame and carried on the back.
backwasher machine used for washing wool after carding to remove all impurities. It also dries the tops after washing by passing them over steam-heated cylinders, or perforated cylinders through which hot air is forced.

backwashing removal of the oil which has been put into worsted stock in the blending, oiling and mixing operations when the mix was made up.
backwrap a wraparound garment, as a skirt, that fastens in the back
back yoke is a piece of fabric that connects the back of a garment to the area of the back across the back shoulders which allows the garment to lie flat while following the reliefs of the body. This helps ensure a proper drape and appearance of the top. Learn more about shirt yokes.
bag purse; handbag
bagasse
the crushed stalks of the sugar cane after the sugar has been extracted.
bagging material for bags.
bagwig bagwig an 18th century wig with the back hair enclosed in a small silk bag
baize a coarse woolen or cotton fabric napped to imitate felt.
balaclava a knit cap for the head and neck [Also called, balaclava helmet]
balcony bra, also known as a balconette bra.. Typically (but not always) you want as much support and coverage as you can get out of your bra. With a scoop or low cut neck tops, this creates a natural fashion conflict. If you are a bra wearer, you need support but you want enough support without the cups showing. Bra designers figured out a unique approach. The balcony bra solves the problem by providing more support than you usually get along the bottom and outer area of the bra cups. This effectively causes the breasts to rise and move towards the center of the chest. This also creates cleavage, which usually is desirable with a low cut neck. The balcony bra design reduces the cup coverage across the top and inner area of the breasts. This effectively helps keeps the bra cups from showing above the cut line of the top unless you are wearing something with a severe plunge. The major benefit of a balcony bra is that it provides the wearer with a solution to low cut tops without sacrificing much of the bras required performance.
balbriggan a knitted cotton fabric used especially for underwear or hosiery.
baldachin a rich embroidered fabric of silk and gold.
baldric an often ornamented belt worn over one shoulder to support a sword or bugle.
bale a package of wool in a standard wool pack to fit order for shipment. May be farm, dumped, or unitized. Common form is the farm bale weighing between 100 and 200 kgs.
balloon sleeve a type of full sleeve. It is frequently made of lighter or transparent fabrics.
balmacaan a loose single-breasted overcoat usually having raglan sleeves and a short turnover collar
balmoral a laced boot or shoe; [Often capitalized] a round flat cap with a top projecting all around
bamboo
(
Bambusa)
a giant woody grass, often reaching a height of forty feet or more, found in the tropical and subtropical regions of the Eastern Hemisphere. It also has been grown successfully in certain parts of the Southern United States. The fibers closely resemble those from straws in many of their characteristics . Its fibers have an average length of 2.4mm, thus standing between softwood and hardwood fibers.
band a close-fitting strip that confines material at the waist, neck, or cuff of clothing
bandanna a large figured handkerchief
bandeau a fillet or band especially for the hair; brassiere.
banded self collar a type of collar made of the same material as the body of the shirt. Banded collars can be "similated" (made of two pieces) or "true" which are made of four pieces).
bandolier a belt worn over the shoulder and across the breast. Also spelled bandoleer.
bangkok a hat woven of fine palm fiber in the Philippines
bangle a stiff usually ornamental bracelet or anklet slipped or clasped on
barathea a fabric that has a broken rib weave and a pebbly texture and that is made of silk, worsted, or synthetic fiber or a combination of these. fabric has granular texture achieved by the short broken ribs in the filling direction. It is a rich soft-looking, fine fabric. Used in men's dress ties, cumberbunds. English in origin and originally made as a mourning cloth.
barb a medieval cloth headdress passing over or under the chin and covering the neck
Bar Tacks: a stitch made to strengthen a potential weak spot in a garment or other sewn item. Can be a horizontal stitch that bisects a seam, for added strength and durability.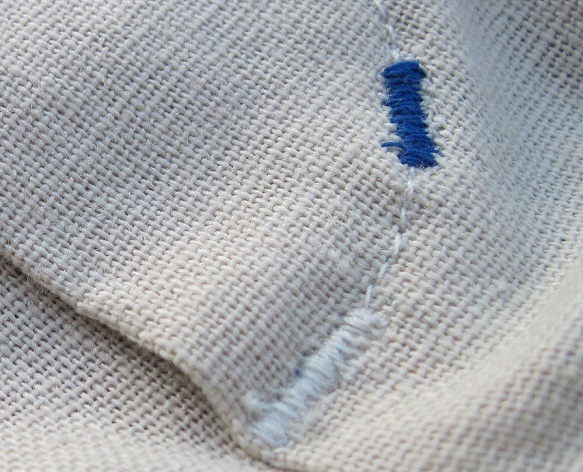 basinet a light often pointed steel helmet
basque a tight-fitting bodice for women
bast fiber a strong woody fiber obtained chiefly from the phloem of plants and used especially in cordage, matting, and fabrics.
bathing suit swimsuit
bathrobe a loose often absorbent robe worn before and after bathing or as a dressing gown
batik a fabric printed by batik, namely an Indonesian method of hand-printing textiles by coating with wax the parts not to be dyed.
batiste cotton, also rayon and wool. Named after Jean Batiste, a French linen weaver. Light weight, soft, semi-sheer fabric which resembles nainsook, but finer. It belongs to the lawn family; almost transparent. It is made of tightly twisted, combed yarns and mercerized finish. Sometimes it is printed or embroidered. In a heavier weight, it is used for foundation garments and linings in a plain, figured, striped, or flowered design. Considered similar to nainsook but finer and lighter in weight. Now usually made of 100% polyester distinguished by slubs in filling direction.
bay a garland or crown especially of laurel given as a prize for victory or excellence. Also, a reddish brown color.
bayadere has brightly colored stripes in the filling direction. Crosswise rib (plain or twill weave). Often black warp. The color effects are usually startling or bizarre. Mostly produced in India. Name derived from the Bajadere dancing girl of India, dedicated from birth to a dancing life. The Bayadere costume includes the striped garment, a flimsy scarf or shawl, jeweled trousers, spangles, sequins, anklets.
Next Apparel Glossary Page (B2)
Apparel Search Glossary

A
B
C
D
E
F
G
H
I
J
K
L
M
N
O
P
Q
R
S
T
U
V
W
X
Y
Z

The Apparel Search glossary has been compiled from numerous resources over the past several years. In addition to receiving definitions from our viewers and friends, we have also compiled information from various newsletters, magazines, newspapers, advertisements, lectures, brochures etc. The glossary is also supplemented with words and definitions from Merriam Webster's Dictionary (Tenth Collegiate Edition) and Webster's New World Dictionary. In addition, we have also created words & definitions entirely from our own imagination (we tried to make them as accurate as possible). In some cases, we have created single definitions by combining information from various locations. This has been done to create a broader & more detailed definition. Due to the fact that this resource is a compilation from literally hundreds of resources, we can not guarantee the accuracy, spelling , definitions etc., of any of the items listed on these pages. Please utilize this resource at your own risk. Do not rely on our definitions for accuracy. If you have any additional definitions or have suggestions for updating current definitions, please continue to submit your comments for review; Add or Modify Definitions. Thanks to viewers like you, this glossary has become a helpful tool for the apparel industry. Please continue to send your new definitions and definition revisions.