It began by accident – as many successful products do – when jewelry designer Lindsay Bloom almost walked down the aisle wearing a black hair elastic on her wrist on her wedding day. What could have been a fashion disaster for the bride inspired a great idea – a fashionable, but still functional, hair elastic and bracelet all in one. And so became Black Ties, a chic and practical new collection of hair elastics that make a style statement, even on the wrist.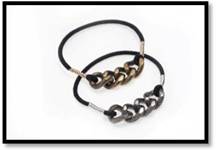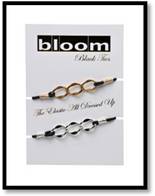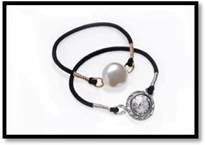 Women seem to be universally attached to wearing hair ties on their wrists. Should that impulsive moment to throw hair into a ponytail, bun or braid arise, the necessary tool is literally "at hand." However, that bulky-looking, utilitarian elastic rarely leaves the wrist – and it is not the prettiest or most sophisticated arm adornment. But, Bloom Jewelry changed all that when they found a way to disguise this everyday item as a stylish accessory that acts as jewelry and can seamlessly be worn alongside other accessories.
"I constantly notice fashionable woman wearing black hair elastics on their wrists at inconvenient times," said Lindsay Bloom, head designer and founder of Bloom Jewelry. "I wanted to find a way to take this simple, routine item, and make it fresh and modern while blending utility with style. This is a product for women who want to accessorize."
Specifics about Black Ties:

Designed and hand-made in America – an accessory dream come true

Feature decorative elements, which add fashion to the usually bland band, but that don't pull, snag or grab the hair

Consist of eight different product lines including signature chain, classic crest and fancy gala

Designs feature Sterling Silver and 14k gold-filled detailing, stylish chains, rhinestones and pearls

Retail from $26 to $48 for a package of two
About Bloom Jewelry
Headquartered in Denver, Colorado, Bloom Jewelry features a handmade collection of jewelry that goes anywhere with anything, never going out of style. Bloom Jewelry includes the Bloom Bridal collection of fun, yet classic designs for the modern-day bride, and Bloom Black Ties, a collection of chic hair ties that presents "The Elastic All Dressed Up." Bloom Jewelry is sold in boutiques across the United States and Canada, and online at www.jewelrybybloom.com or www.bloomblackties.com. For more information, follow Bloom Jewelry on Facebook.
Read more fashion news articles from 2012: January 2012 Fashion Articles
Read more fashion industry news archive from 2011: 2011 Archive Fashion Articles
Read more fashion articles from 2010: 2010 Archive Fashion Articles
Read more fashion articles from 2009: 2009 Archive Fashion Articles

Follow us on Social Networks:
Follow Apparel Search on Twitter
Follow Apparel Search on Youtube
Follow Apparel Search on Facebook
If you want your press releases about fashion to be published, you are welcome to submit them to Apparel Search at any time. In addition, you may want to submit your articles to the Fashion Newspaper.


Here on Apparel Search you can learn more about fashion in many various ways. Certainly, one way is to read fashion news articles.

If you have suggestions on ways that we can improve this page, please do not hesitate to let us know.
You may also find the following links to be of assistance:

Fashion Jobs
You may also have interest in the fashion shopping articles.
If you are tired of simply reading about fashion, you may want to take a break and do a little shopping. If that is the case, you are welcome to visit our shopping section from the links below:
Shopping For Children's Clothing

Here are a few more apparel news resources that you may enjoy.
Have you ever dreamed of becoming a fashion designer?