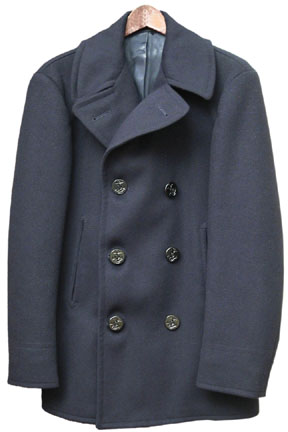 A peacoat or peajacket is a outer coat, generally of a navy-colored heavy wool, originally worn by sailors of European navies. Peacoats are characterized by broad lapels, double-breasted fronts, and vertical or slash pockets.

P Coat Commonly referred to as "Pea Coat". Double-breasted, navy blue worsted wool overcoat originally designed in the early 20th century for use by US Navy personnel. Called a "Pea Coat" due to the material that the coats are made from. The wool was referred to as "Pilot Cloth", but then became known as P-Cloth, hence the name "Pea Coat." They are recognizable by the characteristic "anchor" buttons and wide, rounded lapels. The style is considered a classic, and P coats are now worn in the United States by all manner of individuals. Note that few of the jackets seen on the street are genuine United States Navy surplus; being a classic garment, it is frequently available from retailers in the USA, though often with small design changes that reflect the current tendencies of the day.
---
Discussion boards are a great place to meet other members of the fashion industry, get advice, and share information. This forum was created to discuss the topic of this page. If you have questions, or information to improve this page, please join in the community discussion below. Please keep the communication on topic and for the purpose of education.
comments powered by Disqus