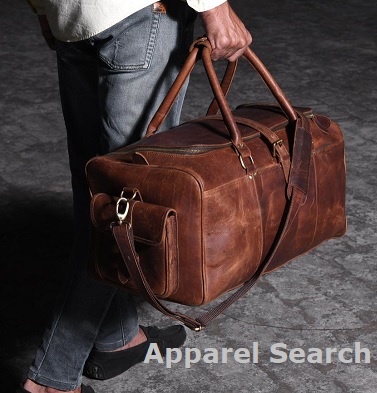 Auburn Leather Company: leather goods and accessories including motorcycle bags, leather laces, western tack, crafts and more.

---

Bearskin Neck Leathers has been catering to the leather lovers for over 28 years now with expertise in high quality merchandise at reasonable prices and excellent customer service. Their staff is knowledgeable and their inventory of leather goods is extensive. Address: 7 Old Harbor Road Rockport, MA 01966 978-546-2258 fax 978-546-6407 e-mail: dj@bearskinneckleathers.com

---

Colomer Group: clothing, footwear, gloves and other leather goods.

---

CowHide.com

---

Custom Leather Craft by RJ Leary: master leather smith; photographs of hand carved leather.

---

Dee's Leather & Hide Leather Outlet: American made leather jackets, chaps, and vests. Address: 5 Elm Street Peabody Massachusetts 01960 USA Phone: 978-531-6978 or 978-531-8588 Fax: 978-531-8588 Email: deesleather@excelr8.net Contact: Deliela Bettencourt

---

East West Leather: specializes in leather accessories, jackets, boots by Tony Lama, Justin Nocona, Rios of Mercedes. In North Beach.

---

Hide Side Outfitters: offering leather jackets, coats, oilskin outerwear, and caps. Also sells Wisconsin NFL and collegiate logo jackets. Located in Fish Creek and Egg Harbor.

---

Jamin' Leather: motorcycle/fashion apparel, bags, vests, hats, sexy lingerie toys, t-shirts and more.

---

Leathericon.com: is an online leather garments store which sells Leather Jackets and Apparel globally and ships all orders via air shipping internationally. Products: leather, leather jackets, leather jacket, leather clothes, leather clothing, leather blazers , leather skirt, motorcycle jacket, biker jackets, leather short, leather vest, leather halters, leather coats, leather dress, bomber jackets, fur coats, corporate wear, designer collection, leather accessories. Address: 10B Barry Jackson Tower, Los Angeles, California, 90089 Phone: 1-800-681-3551 or 1-800-865-9266 Contact: Olivia Sarley e-mail: ava.web25@googlemail.com

---

Leather Unlimited: sells jackets, vests, chaps, accessories, and more.

---

Maida's: alligator and leather products including belts, wallets, attaches, cowboy products, boots, portfolios, and more.

---

Marr's Leather Shops (United Kingdom): Specialist manufacturers and retailers of quality men's and ladies leather clothing and accessories Address: 16 Rose Crescent Cambridge CB2 3LL England Phone: 0044 (0)1223 355499 Email: a&v@marrsleather.co.uk Contact: Matthew Ansell
Gender: All
Store Type: Brick & Mortar
Retail Category: Specialty
---

Northwest International Furs, Ltd: men's, women's, children's fur and leather coats and accessories.

---
If you can not find enough information about leather clothing retailers from our retail directory, you are welcome to search the Amazon database for additional Leather Clothing resources. Their database will allow you to search by leather garment type, leather fashion brand name or pricing.
---

Pampas by Mail: leather apparel and accessories, for men and women with online catalog and ordering.

---

RAM Leather Care: offers suede and leather cleaning, alterations, repairs, and more.

---

Renegade Leather
---

Retail Warehouse : factory direct buyer of the finest American made and imported motorcycle leather available in the market today.

---

Ringos Leather Apparel: Motorcycle, licensed cartoon, licensed sports, military bomber. Olympic and more. leather, denim and rain gear apparel. Address: P.M.B. # 224 5334 Central Florida Parkway Orlando, Florida 32821 Phone: 407-345-7933 Email: ringoent@aol.com Contact: Mr. Manzi - sales manager
Gender: all
StoreType: Online Retailer
---

Rose Leather Fashions Inc. DBA US Made Leather: they also have stores located at 212 South Main Street, Middleton, MA 01949 (978)750-4633, 519A Route 1 South, York, ME 03909 (207)363-7362, 1263 Oaklawn Avenue, Cranston, RI 02902 (401) 463-6771. They carry all the apparel, saddlebags, boots and other accessories for the motorcycle rider. They also have a large selection of dress and casual garments in various price ranges. Address: 76 Newbury Street Danvers, Massachusetts 01923 USA Phone: 978-777-8383 or 978-750-4633 Fax: 978-750-4689 Email: roseleatherfashions@hotmail.com Contact: Maria Bernardo
Gender: All
Store Type: Brick & Mortar
Retail Category: Specialty
---

Rudsak Leather, Inc.: apparel for men and women, including coats and jackets and accessories.

---

SodHoppers: custom moccasins, handbags, vests and necklaces.

---

Sullivan Glove: offers leather garments and gloves for work, play, sports, riding, and motoring.

---

Sunrise Leather Company
---

Top Priority Leathers, Inc.: leather goods for motorcyclists including jackets, chaps, vests, gloves and western wear.

---

VillageShop.com: is located in Berks County Pennsylvania, in a small village called Pleasantville, about 30 minutes from Allentown, 15 minutes from Reading and 75 minutes north of Philadelphia.. Shearling Coats, Mink Coats and Sheepskin Jackets. Also featuring sheepskin slippers, sheepskin seat covers, hats, vests, mittens, shearling gloves, and full line of leather bags by Latico Leathers. Address: 2644 W. Philadelphia Ave., Oley PA 19547 Phone: 866-502-5104 Fax: 484-214-0130 E-mail: info@villageshop.com Contact: Daniel Sickafus
---

Wehmeiers Belt Shop: boots, belts, buckles, and alligator accessories in the French Quarter.

---

Wilsons Leather Wilsons Leather is the leading specialty retailer of quality leather outerwear, accessories and apparel in the United States. Their history dates back to 1899 as Bermans Leather, a leather garment manufacturer and factory outlet retailer. Bermans Leather and Wilsons House of Suede and Leather merged in 1988, becoming the firm you know today as Wilsons Leather. Their multi-channel store locations are designed to target a broad customer base with a superior level of customer service. Through their worldwide leather sourcing network and in-house design capabilities, they are able to consistently provide their customers with quality, fashionable merchandise at attractive prices. Their business structure results in shorter lead times than their competition, allowing them to react quickly to popular and emerging fashion trends and customer preferences, rapidly replenish fast-selling merchandise and minimize fashion risk. Wilsons Leather is the leading specialty retailer of leather outerwear, accessories and apparel in the United States. As of January 28, 2006, Wilsons Leather operated 422 stores located in 45 states, including 298 mall stores, 110 outlet stores and 14 airport stores. The Company has traditionally supplemented its permanent mall stores with seasonal stores during its peak selling season from October through January.
You may also find our motorcycle clothing retailer section to be of interest. Motorcycle clothes are often made of leather.
Women's Leather Clothing on Amazon
Women's Leather Jackets
Women's Leather Pants
Leather Skirts
Women's Leather Mini Skirts
Women's Leather Short Pants
Women's Leather Shirts
Women's Leather Blazers
Women's Leather Boots
Women's Leather Shoes
Women's Leather Sneakers
Women's Leather Sandals
Women's Leather Slippers
Women's Leather Moccasins
Women's Leather Gloves
Women's Leather Purse
Women's Leather Handbags
Women's Leather Bags
Women's Leather Intimate Apparel
Women's Leather Halter Top
Women's Leather Vest
Women's Leather Hat
Women's Leather Key Chains
Men's Leather Clothing on Amazon
Men's Leather Jackets
Men's Leather Blazers
Men's Leather Pants
Men's Leather Shirts
Men's Leather Gloves
Men's Leather Belts
Men's Leather Hat
Men's Leather Vest
Men's Leather Boots
Men's Leather Shoes
Men's Leather Sneakers
Men's Leather Sandals
Men's Leather Slippers
Men's Leather Moccasins
Men's Leather Bags
Men's Leather Wallets
Men's Leather Skull Caps