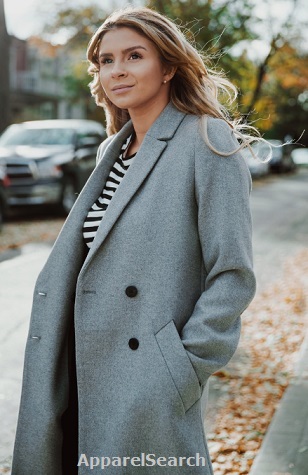 Barbour : Founded by John Barbour in 1894. Home to the iconic wax cotton jacket. Discover this season's collections for men and women. Barbour has an incredibly long and loving history with waxed cotton, dating back to 1894. It could be argued that our relationship with this material for use in clothing is the longest running and most consistent in the world today.
---

Columbia: Shop direct from Columbia Sportswear. Their Outerwear is Tested Tough in the Pacific Northwest. Shop for Jackets, Pants, Shirts, Shoes & more. From cutting edge technology, to their innovative heritage in Bugaboo, their jackets, pants, fleece, boots, and shoes are all tested tough so you can enjoy the outdoors longer.
---

Mackage : Inspired by his brothers' experience in the leather industry, Eran Elfassy founded Mackage in 1999. Two years later, Elisa Dahan joined him and, together, they developed one of the most prestigious contemporary outerwear brands worldwide. Their mission was clear: to elevate outerwear with a unique balance between fashion and function. Mackage collections combine the finest leathers, down, and wool with tailored silhouettes and precision detail. They are a testament to the brand's cornerstones of innovation, design and an unwavering commitment to outstanding quality: a philosophy that has fundamentally changed the outerwear game.
---

Moncler : Moncler offers you a fine collection of clothing, down jackets and accessories for men, women and kids. Discover more on the online store. Founded in 1952 in Monestier-de-Clermont, Grenoble, France, Moncler is now located in Italy. Over the course of the years the brand has merged style with ongoing technological research, which harnesses the knowledge of mountaineering experts. Moncler collections combine extreme needs with day-to-day city life. Beginning in 2003, when Remo Ruffini entered in the Group, a process of repositioning of the brand was initiated through which Moncler products take on an ever more distinctive and exclusive aspect.
---

Outback Trading : Outback is a leading supplier of all-weather outdoor apparel. They specialize in producing high quality oilskins, jackets, vests and more for men and women. Outback Trading Company is a leading supplier of all-weather outdoor apparel. Established in 1983, Outback Trading Company stays true to its reputation of producing durable and rugged high performing apparel. they are committed to producing hard wearing comfortable clothes for working lifestyles, as well as functional fashion apparel.
---

Pringle Cashmere Clothing (Scotland) : Pringle Cashmere Clothing provides cashmere clothing and accessories for women, men and children. Pringle is the iconic brand founded in 1815 at the birthplace of the Scottish Knitwear industry. From the beginning technical innovation has led to the creation of knitwear as outerwear it became one of the first luxury knitwear manufacturers in the world, having expanded throughout Europe, the US and Asia during the 19th and 20th Centuries. Address: Pringle Cashmere Clothing, Glebe Mill, Noble Place, Hawick, TD9 9QE Scotland, Phone +44 (0) 1450 360200 E-mail webstore@pringlescotland.com
Women's Clothing Retailer
Women's Sweater Retailer
Women's Skirt Retailer
Women's Outerwear Retailer
---

Royal Male : Barbour is more than just clothing. It is a quiet passion for something lasting and truly authentic. It belongs to the landscape, evolved by time and weather. Barbour clothing has been made in the north east of England and the borders of Scotland since the 19th century. Quality has never been compromised, purpose never forgotten by the generations of weavers, tailors and seamstresses that have made each garment. It is this legacy which is celebrated by Barbour classics. Unique British country clothing that could only be Barbour. Barbour's classic range of jackets is based on the original Barbour proofing formula which is called Sylkoil. Soft, flexible and non-sticky, the oil proofs natural cotton drapes superbly, bringing an extra workability to the tailoring and cut, and more comfort and style to the wearer, while keeping out the wet for the general out-of-door man and woman.
Bags
Men's Outerwear

Retailer

Women's Outerwear

Retailer
You can also buy women's outwear from women's fashion stores such as Nordstrom, Bloomingdales, Macy's, Neiman Marcus, Dillard's, JC Penney, etc.
Yes, we agree that the world consists of MANY more women's outerwear stores. We plan to add more to this section in the near future. For now, we suggest you visit the Women's Clothing Stores section to find other retailers selling women's jackets or outerwear.