The "Apparel Link" section is where we list Fashion & Textile Industry guides directories, databases, B2B websites that are relevant to clothing industry.
Apparel Links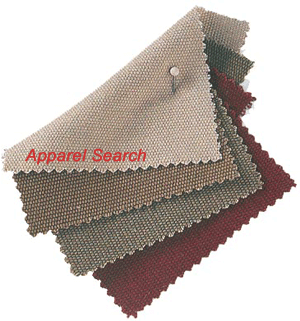 BharatTextile.com : online apparel & textile industry directory based in India.
---

Bocat : A B2B guide that includes a directory of apparel and textile e-marketplaces, other industry exchanges, auctions, news and resources for business purchasing. Address: 172 W.Verdugo Ave Burbank, California 91201 U.S.A Phone # 818 841-0598 Fax # 841-0575 E-mail: info@bocat.com Contact: Mark Noyes - Webmaster
---

Children's Wear Directory (Maxim Publications Inc.) : children's wear manufacturers & representatives of children's wear lines, and retail stores that carry them.
---

China Shoes Industry Network (China) : is a professional shoes industry web site. Specialized mutual platform of shoes industry. It provides information services, popularization of the products and trade to bring together so on for the enterprise which regards the finished shoes and the distribution and the produce of the sole as their center. It is devoted to becoming the door Web site of the Chinese shoes, and actively promote the industrialization of new and high technology such as making shoes. China Shoes Industry Network is a specialized web site to reflect shoes industry trends, market information, and the information of new technologies, new of products with professional web site and publication.
---

ChinaTexnet : Chinese clothing industry portal.
---

Clothing Industry Directory : the clothing industry directory website launched in March 2007, as a new division of the Apparel Search Company LLC. This fashion website is a directory of companies that are relevant to the clothing industry. Unlike the Apparel Search website directory, the ClothingIndustryDirectory.com website, allows viewers to update their listings directly thru a control panel. Although the site is monitored by the Apparel Search Company, users may upload and maintain their own company information.
---

Clothing Model Directory The Clothing Model Directory web site was launched in February 2005, as a new division of the Apparel Search Company LLC. This newly created interactive web site has been designed specifically to education viewers in regard to the world of MODELING AND BEAUTY. The Clothing Model web site is most accurately classified as a B2B Portal / Directory for the Modeling Industry. The directory is vast and growing on a continuous basis, as is the beauty industry in general.
---

The Costumer's Manifesto : Web ring related to costumes. Costume history, fashions etc.
---

Davison's Textile Gold Book : directories for textile manufacturing equipment, supply, and chemical companies.
---

Designer Search is a FREE tool intended to assist fashion and textile industry artists / designers / design studios and companies that are searching for assistance with design functions, find one another. Fashion and textile industry artists can utilize this tool to post their design portfolios and basically advertise their talents while potential employers can utilize Designer Search to find the artists who they would like to consider working with.
---

DirectoryFashion.com : Fashion directory of trendy fashion on the web.
---

Dress For Success : The men's online guide to dressing with style.
---

Dress King: Online information regarding the apparel industry.
---

Ecompartners : is an e-business infrastructure provider of enabling technology for supply chain management in the apparel industry. Their vision extends to providing an integrated suite of real-time supply chain exchange services, trading exchanges, private sell-side solutions and sourcing systems.
---

Fabric Marketing Research : Provides complete marketing profiles on 15,000 fashion firms in the US. That includes apparel manufacturers, importers, fabric converters, mills and jobbers. They provide firms headquarters address, major pricipals, phone, fax, sales volume, detailed description of the companies. Address: 16 Catalpa Lane Valley Stream, NY 11581 USA Phone: 212 686 2345 or 516 791 4486 Fax: 516 791 6114 Email: fabric@mindspring.com Contact: David Mass
---

Fashion Association, The : Founded in 1955, THE FASHION ASSOCIATION is the not-for-profit public relations arm of the apparel industry, representing hundreds of manufacturers, retailers, designers and textile producers in both men's and women's apparel. TFA, a membership organization, provides fashion and business news stories to newspapers, magazines, TV and radio networks nationally and around the world.
---

Fashion.bg Ltd.(English) / Fashion Bg Ltd (Bulgarian) : The company Fashion.bg Ltd. is based in Rousse, Bulgaria and its main purpose is to represent Bulgarian manufacturers of apparel, textile, accessories, perfumery and cosmetics on the net, to provide information to foreign partners about Bulgarian fashion market and to give assistance to importers and exporters. Address: 43 Pliska Str. "Vida" blockhouse, entr.5, floor 1 Rousse 7004 Bulgaria Phone: 359 82 84 40 47 Fax: 359 82 84 40 48 Email: office@fashion.bg Contact: Ms Silvia Todorova
---

Fashion Center : They specialize in New York City.
---

The Fashiondex : Directory to many apparel related subjects. They are a good resource.
---

Fashion Digital Library : online resource from Tokyo..
---

Fashion Group International : An online business and research center created by The Fashion Group International, this global non-profit organization brings together professionals in fashion, apparel, accessories, beauty and home.
---

Fashion Guide : fashion guide from the WN Network.
---

Fashion Industry Network : the fashion industry network is a business networking site. Members of the network work in the clothing industry or textile industry, or have a very strong interest in style.
---

FashionInformation.com (United Kingdom) : is a new concept in fashion reporting published exclusively on the Internet. A great womenswear trend and forecasting service offering a close and detailed insight into fashion trends from a unique perspective.
---

Fashioninjapan.com : aims at providing you with some information about the Japanese Fashion Market. More than a simple information website, presents through more than 300 monthly updated pictures all the fashion trends of clothing, shoes, bags and accessories, make up and interior decoration in Japan. The main objective is to provide the designers, the makers, the buyers, the line-builders, updated pictures on the trends in Japan. As you know, more and more fashion trends are now starting in Japan. Therefore, in order to be advanced to your competitors, you have now the possibility to follow the actual Japanese fashion and develop products before everybody. Address: 6-19-11 Akasaka Maison Akasaka 503 Tokyo 107-0052 Japan Phone: 09 036800836 Fax: 03-5366-2562 Email: loic@fashioninjapan.com Contact: Loic Bizel - president
---

Fashion Merchandisers Club : (previously called Apparel Key) : is an apparel manufacturing knowledge portal site developed by the Institute of Textiles and Clothing (ITC) of Hong Kong Polytechnic University (PolyU) in collaboration with the Chinese University of Hong Kong (CUHK). The development is the outcome of a project funded by the Industrial Support Fund (ISF) of the Industry Department of Hong Kong Special Administration Region (HKSAR).
You may find the following fashion designer links to be of interest:

Fashion Industry - Fashion Industry B2B Clothing Portal Directory.
Thank you for using the Apparel Search website.