Who doesn't love a new pair of jeans? Sure, we all already have jeans, but a new pair is always a welcome addition to the closet. Is it time to start breaking in a new pair of denim pants? Although ripped jeans are cool, if you did not intend them to be ripped, you may need a new pair.
Learn more about jeans in our fashion influence section.
You will surely find unlimited ways to show off your fabulous sense of style by wearing women's jeans. Whether it's a business casual day at the office or you're heading out to run errands mid-week, women's jeans are a comfortable & stylish choice. Different cuts, colors, and styles create endless opportunities to choose the perfect pair for you. In addition, you can find plenty of popular brands and fair prices if you shop retailers such as Amazon.
Learn more about women's jeans.
Women's Jeans Stores

Women's Fashion on Amazon

Women's Clothing Stores

Women's Clothes Guide

Women's Fashion Brands

Women's Fashion Shopper
You might also want to learn about jean shorts in our fashion influence section.
Shop for women's jeans on Amazon.

Are you into history? Yes, vintage jeans are part of history, but we mean the history of ripped jeans.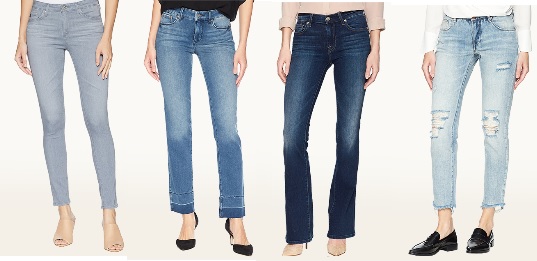 Is it possible that you are a super trendy mom, or possibly wish to find the perfect pair of denim jeans for your mother? If so, you may want to check the mom jeans trend as reported on our fashion blog.
How do you know when you wore your jeans too long? If you bought the jeans new and you are still wearing them when they are considered vintage, you may have owned them too long.
Have you seen the women's shoe store, handbag store, women's shirts store, and women's fashion store?