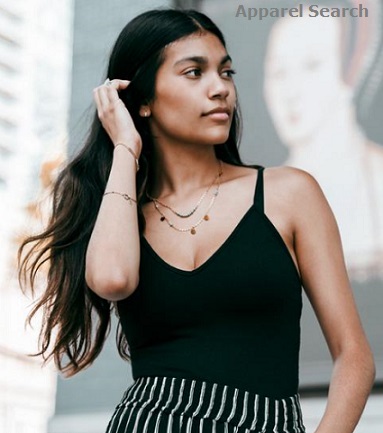 Clothing Stores Directory:

Target Corporation / Target.com (Formerly: Dayton Hudson Corp.) Target Corporation is a growing company focused on general merchandise retailing. Their principal operating strategy is to provide exceptional value to consumers through multiple retail formats ranging from upscale discount and moderate-priced to full-service department stores. Target's first store opened in Roseville, Minnesota, in 1962. Its on-trend merchandise at affordable prices launched a new era in discount retailing. This "T-1" store was easy to shop, attractive and always clean. It served as the prototype for every Target store opened since then, and it changed how consumers think about discount shopping. Today, Target operates more than 1,300 stores in 47 states, including over 140 SuperTarget stores that add an upscale grocery shopping experience. Target Corporation also owns Associated Merchandising Corporation (AMC), which sources the high quality apparel and hardlines merchandise for the company. AMC also provides international sourcing for a number of retailers.
Mineapolis, MN Phone # (612) 304-6073 Vendor Relations Phone # 612 304 7500


---

The Territory Ahead: they began their journey in 1988 as a new kind of clothing company, offering personality through special fabrics; distinguishing details; and easy, wearable designs. Unlike many catalog companies that buy their items from traditional suppliers, they design and develop their clothing themselves, as well as many of their accessory and gift items, to offer a collection of merchandise that can't be found anywhere else.
---

Timberland : their story began in 1918, in a small Boston, Massachusetts shoe company where Timberland founder, Nathan Swartz, began his bootmaking career as an apprentice stitcher. With his own hands, he cut leather, stitched seams, attached soles and learned how to craft fine leather boots. In 1952, he bought half an interest in The Abington Shoe Company. Three years later, he bought the remaining interest and welcomed his sons into the company. Together, they made shoes for leading manufacturers for nearly 10 years. In the '60s, waterproof leather boots as they know them didn't really exist. The Swartz family helped change all that by introducing injection-molding technology to the footwear industry. This technology fused soles to leather uppers without stitching, producing one of the first truly waterproof boots. In 1973, the Timberland name was born. "Timberland" started as the brand name for their original waterproof leather boot. Then, because the boot was so popular, the company name was officially changed to The Timberland Company. In 1978 and 1979, Timberland added casual and boat shoes to its line to become more than just a boot company. In the 1980s, the company expanded into an international lifestyle brand. Sidney Swartz took the reigns and under his leadership Timberland was launched in Italy, their first entry into the international market (today they are represented all over the world). Then they introduced Timberland clothing and women's footwear... New Hampshire, USA
---

Tobi: Tobi is a leading online fashion boutique headquartered in the San Francisco Bay Area.
---

Top Shop: Since it launched in 1964, Topshop has become a major style authority and one of fashion's biggest success stories. Capturing the zeitgeist every season, its brave and irreverent approach to style has captured the imaginations of fashion-conscious shoppers and industry insiders alike. Note: they also have offline stores.
---

TJX Companies: The TJX Companies, Inc. is the leading off-price retailer of apparel and home fashions in the U.S. and worldwide, ranking No. 103 in the 2015 Fortune 500 listings, with $29.1 billion in revenues in 2014*, more than 3,300 stores in 7 countries, 3 e-commerce sites, and approximately 198,000 Associates. We operate T.J. Maxx and Marshalls (combined, Marmaxx), HomeGoods and Sierra Trading Post, as well as tjmaxx.com and sierratradingpost.com, in the United States; Winners, HomeSense, and Marshalls (combined, TJX Canada) in Canada; and T.K. Maxx in the United Kingdom, Ireland, Germany, Poland, and Austria, as well as HomeSense and tkmaxx.com in the U.K. (combined, TJX Europe). Framingham, MA Phone # (508) 390-1000


If you own or manage a clothing retail store, please let us know the details about your clothing store. It will be our pleasure to add your store to our retail clothing store directory.
Today is the perfect time to learn more about fashion.
Thank you for using the Apparel Search website to learn more about clothing retailers.