Time to find fashion stores that have names that start with the letter "C".
Clothing Stores Directory: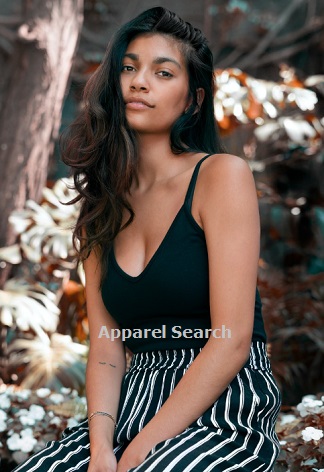 C&A (Belguim): is a leading European fashion retailer. Early members of the Brenninkmeijer family were linen and textile traders in the 17th century but the story of success began 200 years later when the brothers Clemens and August (hence C&A) left their home in Mettingen, Germany and opened a warehouse in Sneek, Holland in 1841. Under the C&A brand there are 10 exclusive subbrands such as Clockhouse, Westbury, and Your Sixth Sense. They have 438 branches + 6 Clockhouse shops in 10 European countries:
---

California Crazee Wear: CraZee Wear has been in business for over ten years and claims to have the finest quality active wear in the industry. Los Angeles, CA Phone # (800) 888-4439 or (310) 577-1545
---

Captain's Landing (Florida): Since 1995, Captain's Landing luxury menswear has been offering only the finest men's resort fashions found under one roof anywhere. They currently offer an eclectic collection of smart and comfortable men's apparel and accessories featuring tailored resort and beach wear by exclusive brands such as Tori Richard, Kahala, Bamboo Cay, Southern Tide, Hook and Tackle, Brighton Belts and much more. Captain's Landing first opened its doors in the fall of 1995 in Punta Gorda, Florida.
---

Carter's (The William Carter Company): The William Carter Company was founded in 1865 by William Carter in Needham, Mass. It is one of the oldest and largest branded marketers of premium infants' and children's apparel in the U.S. Their products fall into 3 categories: baby, sleepwear and playclothes. Everything they do is for children newborn to age 6.
---

Catherines plus size women's fashion.
---

Century 21 Department Stores: Century 21 Department Store, also known as "New York's Best Kept Secret", has more than 15 departments of sensational quality and designer merchandise at 25%-75% off retail prices. Choose from the finest selection of European and American Designer Mens, Ladies, and Childrens Clothing, Mens, Ladies and Childrens Shoes, Lingerie, Linens, Cosmetics, Handbags, Luggage, Housewares and Electronics.
New York
---

Chadwick's of Boston In 1983, they decided to offer women a wide selection of high-quality, brand-name merchandise, at-home shopping convenience and prices lower than department and specialty stores. It was an idea that gave birth to the nation's first, and favorite, off-price fashion catalog for women. Today, millions of smart, savvy women shop in the comfort of their homes for career and casual fashions, shoes and accessories and much more from their catalogs and website. The variety is extensive, from dyed-to-match outfitting, to swimwear and bridal party gowns, they always offer updated styles and complete wardrobe solutions for every woman's apparel needs. Chadwick's is the one-stop, convenient shopping solution for today's busy lifestyles. Chadwick's employs more than 2,000 people at its headquarters in West Bridgewater, Massachusetts.
---

Champs Sports: Champs Sports is a leading sports and lifestyle specialty retailer, known for its innovative merchandising approach, marketing programs, and ability to stay relevant with the trend setting, active, young consumer. They offer a selection of brand name and exclusive products in apparel, footwear, equipment and accessories. Their primary goal is being first to market with the better brand names. Chaps Sports is part of Foot Locker, Inc. (NYSE:FL) is a leading global retailer of athletically inspired shoes and apparel. Headquartered in New York City, the company operates 3,175 athletic retail stores in 27 countries, as well as websites and mobile apps, under the brand names Foot Locker, Champs Sports, Eastbay, Kids Foot Locker, Footaction, Lady Foot Locker, Runners Point, and Sidestep.
---

Chanel: Chanel S.A. is a high fashion house that specializes in haute couture and ready-to-wear clothes, luxury goods and fashion accessories.
learn about Chanel from our fashion designer definitions section.
---

Charlotte Russe: Charlotte Russe stores deliver style in clothing and accessories, providing an exciting, fashionable assortment of merchandise that compliments virtually every facet of our customers' lifestyle. The stores provide fashion and lifestyle needs of young, fashion-conscious women in their teens and early twenties, offering trend right apparel and accessories at value prices.
Women's Clothing Store

Learn more about Charlotte Russe from our apparel industry stock market information section.

---

ChickDowntown.com: ChickDownTown.com proudly stands behind the authenticity of all its products. All of their merchandise is new and guaranteed to be authentic. ChickDownTown.com is committed to providing their customers with the hottest trends in luxury fashion. As a result of the trusted relationships they have with their vendors, you can shop with confidence. Thus, any brand, whether it be Gucci, Movado, Cartier or any other brand, is genuine. Selling counterfeit products as the genuine article is a violation of federal law. All of their products are stated by their company to be genuine and authentic.
---

Chico's FAS, Inc. Chico's sells exclusively designed, private-label women's clothing and related accessories. The Company operates 780 women's specialty stores, including stores in 47 states, the District of Columbia, the U.S. Virgin Islands and Puerto Rico operating under the Chico's, White House|Black Market, soma by Chico's, and Fitigues names. The Company owns 501 Chico's front-line stores, 31 Chico's outlet stores, 197 White House|Black Market front-line stores, 8 White House|Black Market outlet stores, 15 soma by Chico's stores, 12 Fitigues front-line stores and 2 Fitigues outlet stores; franchisees own and operate 14 Chico's stores. Established in 1983, Chico's began in a small store on Sanibel Island, Florida with Marvin and Helene Gralnick selling Mexican folk art and cotton sweaters. From their exclusive, private-label designs to their most amazing personal service, Chico's is truly a unique retail environment. When you walk into any Chico's store, you can depend upon the sales staff to coordinate, accessorize, and help you build a wardrobe to suit your needs. All their products are designed and developed by their Product Development Team in their Headquarters in Fort Myers, Florida which enables them to provide you with new styles every week.
---

Children's Place
: The Children's Place Retail Stores, Inc., is a leading specialty retailer of children's merchandise, ages newborn to ten years old. The Company designs, contracts to manufacture and sells high-quality, value-priced merchandise under the proprietary The Children's Place and licensed Disney Store brand names. As of October 28, 2006, the Company owned and operated 851 The Children's Place stores and 331 Disney Stores in North America and its online store. Current fashion trends in a broad color palette are offered as coordinated outfits specifically designed for children. Each shop is clearly identified and dedicated to serving the needs of Girls and Boys (sizes 4-14), Baby Girls and Boys (sizes 6 mos.-4T) and Newborn (sizes 0-12 mos.). Display racks and shelves are neatly arranged to distinctly separate each department and provide easy viewing of the latest collection available.
---

Christopher & Banks: Christopher & Banks Corporation, formerly known as Braun's Fashions Corporation, is a Minneapolis-based regional retailer of women's specialty apparel which operates through its wholly owned subsidiary, Braun's Fashions, Inc. In fiscal 2000, the Company's lines of merchandise included four principal categories: sportswear, sweaters, dresses and accessories. As of May 12, 2000, the Company operated a chain of 241 stores in 27 states, primarily in the northern half of the United States. The Company's stores are located primarily in regional shopping malls in mid-sized cities and suburban areas. Plymouth, MN (near Minneapolis) Phone # (612) 551-5000

---

Claire's Stores Inc.: Claire's Stores, Inc., ("the Company"), through its wholly owned subsidiaries, Claire's Boutiques, Inc., Claire's Puerto Rico Corp., Claire's Canada Corp., Claire's Accessories UK Ltd., Bijoux One and its 50%-owned subsidiary Claire's Nippon Co., Ltd. is the world's largest mall based chain of stores which specialize in popular-priced fashion accessories and apparel targeted for female teenagers aged 9-20. The stores operate primarily under the names Claire's Accessories, and The Icing. Through its wholly-owned subsidiary, Lux Corporation, the Company operated 87 stores under the name "MR. RAgs " at the end of fiscal 1999. These stores specialize in apparel targeted to male teenagers. Pembroke Pines, FL
---

Club Monaco: Club Monaco is a mid-priced, high-end casual clothing retailer owned by Polo Ralph Lauren. With more than 140 locations worldwide.
---

Coach handcrafted a collection of leather goods using skills handed down from generation to generation. Discerning consumers soon began to seek out the quality and unique nature of Coach craftsmanship. Now greatly expanded, Coach continues to maintain the highest standards for materials and workmanship. Coach's exceptional work force remains committed to carefully upholding the principles of quality and integrity that define the company. They attribute the prominence of the Coach brand to the unique combination of our original American attitude and design, their heritage of fine leather goods and custom fabrics, their superior product quality and durability and their commitment to customer service.
Learn more about Coach from the Coach profile here on Apparel Search.
---

Coldwater Creek their headquarters in Sandpoint, Idaho, tucked away between the Selkirk and Cabinet Mountains on the shores of Lake Pend Oreille. They specialize in women's apparel, jewelry, accessories and gifts. Their merchandise is offered through a growing number of retail stores across the country, on their Web site at www.coldwatercreek.com, and in their direct-mail catalogs. 21 years ago they began as a home business with only one phone, an extra-long cord, a closet stuffed with merchandise and a fierce determination to set new standards for mail order service. Today, they have approximately 4,000 employees and the home office has grown to a 20-acre campus surrounded by broad mountain vistas. Their East Coast Operations Center in Mineral Wells, West Virginia, ships packages to their large base of customers, while also replenishing their stores from coast to coast. Sandpoint, ID
---

Colomer Group: clothing, footwear, gloves and other leather goods.
Barcelona, Spain
---

Copper Penny
:
Copper Penny is an upscale ladies clothing boutique offering sassy clothing, shoes and accessories. Designers include: Trina Turk, Nanette Lepore, Kate Spade, Donald Pliner, Herve Chapelier, Hollywould, Ellen Tracy, Anne Klein.
Address:
317 King Street
Charleston South Carolina 29401
USA
Phone: 843-723-2999
or
843-723-3838
Email:
sales@shopcopperpenny.com
Contact: Bryan Vaigneur - owner
Gender: Women's
Store

Type: Online Retailer
Retail

Category: Specialty
---

Costanza Bridals: Wide variety of gowns, custom made or ready to wear. Brides, Maids, Mothers, Flower Girls. Free alterations or 20% discount. Easy Payment Terms. Address: 4 Via Sunset Palm Beach
Florida 33480 USA Phone: 561-651-7060 or 561-734-1040 Email: cbarilla2002@yahoo.com Contact: Frank Gerecitano, Manager
Gender: Women's
Store Type: Online Retailer
Retail Category: Bridal
---

Costco Wholesale: Costco Wholesale Corporation operates an international chain of membership warehouses, mainly under the "Costco Wholesale" name, that carry quality, brand name merchandise at substantially lower prices than are typically found at conventional wholesale or retail sources. The warehouses are designed to help small-to-medium-sized businesses reduce costs in purchasing for resale and for everyday business use. Individuals belonging to certain qualified groups are also able to purchase for their personal needs.
Costco's corporate mailing address is:
PO Box 34331
Issaquah, WA 98027
Costco's corporate offices are located at:
999 Lake Drive
Issaquah, WA 98027
Issaquah, WA Phone # 1-(800) 220-6000
---

Cost-U-Less, Inc: Cost-U-Less is an operator of mid-sizedclub style stores on the U.S. mainland, in U.S. territories and in foreign island markets in the Carribean and the Pacific.
Bellevue, WA Phone # (425) 644-4241


---

Country Ski: Country Ski & Sport. They are a small family business out of Massachusetts that specializes in ski and snowboard equipment & apparel. They know that shopping online can leave some unanswered questions.
---

CWDKids for a great selection of brand name children's apparel.
Children's Wear Digest mailed its first catalog in 1987, but its roots in the children's clothing business go back much further. In 1911, Julius W. Klaus, grandfather of CWDKids' founder Philip W. Klaus, Jr., helped start the Richmond Dry Goods Company, which sold clothing and linens from brands like Buster Brown and Fieldcrest to retailers throughout the South. Philip Klaus Sr. purchased Richmond Dry Goods in 1956 and it has been a family enterprise ever since. Since the launch of CWDkids.com in 1997, shopping has gotten even easier. Whether you want to call your order in or place it online, you can view all of their merchandise 24 hours a day, 7 days a week. CWDKids strives to bring the best in quality, service, and style to their customers. The catalog features brand name vendors, such as Polo Ralph Lauren, Lilly Pulitzer, Mulberribush, Sweet Potatoes and Sara's Prints, with outstanding reputations for durability and comfort. Their goal is that customers can find fashions for their kids that will stand the test of time. Before you know it, kids are all grown up and off on their own. So while they are kids, CWDKids will help you dress them like kids in unique styles for all occasions.
Today is the perfect time to learn more about fashion.

Return to the Clothes Shopping Directory.
Thank you for using the Apparel Search website.